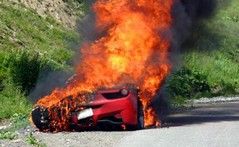 Pesky inflammable heat shield glue...
An official recall has been instigated for all Ferrari 458 Italias, so dealers can replace a rear wheelarch liner and its associated heat shield.
The move is Ferrari's response to the five flambéed 458 Italias (charmingly referred to by the factory as 'thermal incidents') that have been plastered all over the web in recent days, apparently following analysis of the victims' mortal remains.
According to the company, the problem is caused by high ambient temperatures combined with very hot engines, when the wheelarch assembly can be deformed by heat.
This deformation pushes the wheelarch liner heat shield closer to the exhaust, causing the glue used to fix the heat shield to melt, smoke, or in a few cases catch fire.
The fix is a replacement heat shield for the wheelarch liner that's attached mechanically, and not using inflammable glue. (Would this an appropriate moment for a Homer Simpson-style "D'oh!"?)
All 1,248 cars built to the end of July are affected by the recall (that's when the factory shut down for the summer hols), and all future cars will have the fix built in.
Ferrari says it will replace any burnt-out 458 with a shiny new one 'as soon as possible', as long as it can be proved the er, 'thermal incident' was the result of the problem addressed by the recall.