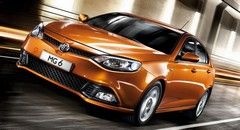 MG's Longbridge plant will start building the first all-new MG for more than 15 years when it starts final assembly of the MG6 family towards the end of the year.
Chinese manufacturers, despite massive domestic market success, have scarcely managed to gain a toehold in the US or European markets but MG's owner, SAIC, seems confident that its new family car will change that.
SAIC has somewhat bullishly told the Financial Times that the new MG6, which is expected to cost between £16k and £20k, has been compared in customer clinics to the likes of the Ford Mondeo, Skoda Octavia and even some of the smaller BMWs. Which does seem rather optimistic.
The success of the MG6 in the UK and Europe will be crucial to the future of the Longbridge site, which employs 300 engineers and around 30 design staff. Currently, only a trickle of MG TF sports cars have found their way out of the Birmingham plant and the company admits it has sold hundreds rather than thousands of the ageing roadsters - and the car's original (Chinese) producers, Nanjing Auto (now part of SAIC) originally envisaged selling 50,000 models a year.
But David Lindley, head of SAIC's technical centre, reckons that Birmingham's engineering and design expertise is crucial to the Chinese, who still lack ground-up engineering experience. "There's still a lack of capability in Shanghai, and probably will be for years, to design a new vehicle from a clean sheet of paper, " Lindley told the FT.