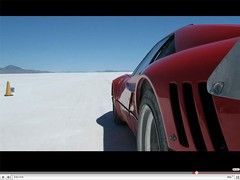 This is, we're told, the world's fastest Ferrari. It's a 1985 288 GTO that's hit 275.401mph at the Bonneville salt flats in Utah.
As well as being the fastest Ferrari ever, it is also now a world record holder in the 'AA/Blown Fuel Modified Sport' class (that's for cars with engines over 500 cubic inches or 8.2-litres, don't yer know...).
Sharp-brained PHers may now have spotted what's coming next - this Modenese beauty hasn't got its original motor any more. Instead, the car's creators - at Ferrari tuning shop P4 by Norwood - have dropped in an 8.8-litre GM V8 that, with the help of two Borg Warner turbos, puts out between 2000bhp and 2500bhp. A little bit more than the original managed, in other words.
Editor Chris-R reckons it's a rather exciting vehicle, but I reckon it's tantamount to a sacrilegious desecration of one of the finest Ferraris ever, a car that I pretty much worshipped at the altar of the bedroom wall poster... for shame... At least the Bonneville-bound Ferrari Enzo we reported on in August had been rebuilt from a write-off.
So, a 275mph Ferrari GTO: blasphemous or brilliant? Have a look-see at the video below and decide for yourself...