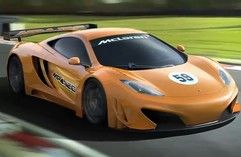 McLaren has officially announced that it is developing a GT3 race version of the new MP4-12C.
Confirming the rumours we heard back in early November about McLaren's racer, the new car will be produced in conjunction with British racing team, CRS.
"CRS Racing will build, sell and support the 12C GT3 cars in close collaboration with McLaren," said McLaren in a statement.
"Racing is in our blood - it was natural to develop a GT3 car alongside the 12C road car", says Martin Whitmarsh, Vodafone McLaren Mercedes Team Principal. "We have a legendary history in global motorsport, including GT racing, and we aim to maintain that reputation with this GT3 program, and any future sports car projects that may evolve.
"The 12C's architecture and design was always aimed at high-performance and ease of maintenance - two key criteria for potential customers. Combine that with the vast amount of racing experience in our automotive team, and CRS Racing's specialist development experience, and the 12C GT3 should be an exciting proposition."
McLaren will dip its toe in the water with a few selected races in 2011, but the first fully developed customer cars will take a bow in the 2012 European FIA GT3 series.
Oh, and to remind us of McLaren's endurance racing heritage, the folks up in Woking have put together this video about the Le Mans success of the F1 GTR. Which is jolly nice of them.