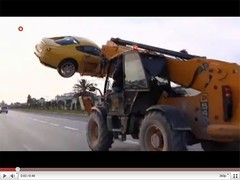 If you ever find yourself the totalitarian ruler of a North African state (and it's always a possibility), do be careful to take as much stuff with you as possible if you ever have to get out in a hurry.
This is perhaps advice that ousted Tunisian president Zine el-Abidine Ben Ali ought to have heeded - his presidential residence has been thoroughly looted, and the booty includes his Ferrari 599 GTB, which was 'liberated' for the people via the medium of a JCB.
But as our Dutch friends from Autogespot, who first spotted the story, point out, we hope the fellows on the JCB managed to get hold of the keys too. Though if they had you'd think they would be moving it using a more conventional method...