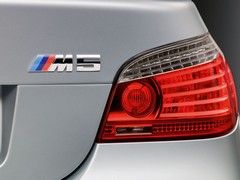 We're going to archive this one under 'Arrggh, please God no!': rumours have reached our virtual ears that the soon-to-arrive BMW M5 might be automatic only.
And we don't mean paddle-shifty, semi-auto, twin-clutch automatic either; we mean that the current internet gossip is that the next M5 will be fitted with a full-on slushmatic torque converter job.
The news seems to have originated in the States, with motoring website Motor Trend suggesting that, when BMW engineers tried to adapt the Getrag-developed M-DCT twin-clutch transmission, they struggled with the torque of the uprated 4.4-litre twin-turbo V8.
"Although the torque number remains unknown, it's obviously too high for the M DCT," says Motor Trend. "BMW M discovered that the transmission would have to be beefed up with bigger actuators, which would slow down the transmission's response time. The only way it could have worked was with an extensive redo of the M DCT. So BMW's M division chose to go with the eight-speed manumatic only."
If true, this would be pretty earth-shattering news. The X5 M and X6 M both use 6-speed autos, but they're hardly 'hardcore' M cars - whereas the M5 is part of M Division core line-up, and an auto-only transmission would be a pretty bold move.
There is hope, however - our own sources at BMW cannot confirm the transmission of the F10 M5, so they've promised to 'do a bit of digging' for us and find out. Here's hoping that the answer they unearth isn't '8-speed ZF auto'...