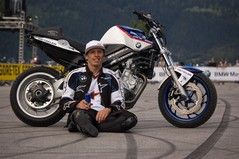 Chris Pfeiffer - four times stunt champ
Life on the horizontal plane a little too dull? In that case, this could be the video for you. It's Chris Pfeiffer, four-time world stunt riding champion, giving an excellent master class on how to do a wheelie with a BMW.
Viewers will note how Chris very responsibly advises 'practice' (if you are not thrown off at the first attempt, of course) while encouraging us to get as close to the 'tipping point' as possible which is, apparently, 'more than 45 degrees.'
While bluff old traditionalists may believe that a motorised object should remain as close to horizontal as humanly (and inhumanly) possible, we're sure that other PHers will find the information useful. (Can we let Nanny out of the nursery cupboard now? All that banging is giving us a headache. Ed.)
PS. This is the cue for a 'show us your wreckage after trying to wheelie' picture thread.
PPS. And no 'banging in the cupboard' jokes (see above). This is a family website.