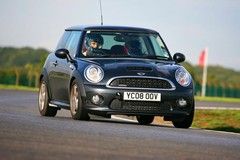 The old PH Fleet Cooper S
Rumours swirling the webnet suggest a MINI Cooper S has been spotted winter testing sporting 'Hybrid' stickers, with an electric motor clearly protruding from the rear.
So could the MINI soon be getting a hybrid four-wheel-drive system? It is no secret that MINI has been working feverishly to increase its model range and this could yet be another diversification of the MINI brand.
Despite already having a four-wheel-drive system in production on the MINI Countryman, parent company BMW has recently agreed a deal to share hybrid technologies "for front-wheel-drive applications" with PSA in a bid to reduce overall CO2 emissions in the face of forthcoming EU regulations.
Neither BMW nor Peugeot-Citroen has specified what sort of systems will be developed, but it looks as if in a MINI application that the front wheels will be driven by the same engine as the standard Cooper S and the rear by an electric motor, thus increasing power without affecting fuel consumption.
If it is to make production, it is likely that a hybrid MINI would be launched with the next generation of MINIs in either 2012 or 2013.