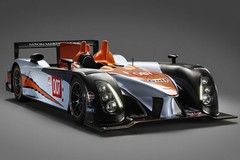 Aston's new straight-six LMP1 Le Mans challenger, the AMR-One, gets its first competitive outing this weekend at Paul Ricard.
Well, we say competitive. Aston is actually billing the weekend as a 'test' race, from which we infer that the new car might not quite be up to speed yet.
Still, that's probably to be expected, as The AMR-One only first turned a wheel last month, and has been undergoing an extensive (if short) development process since then.
At the wheel of the Gulf-liveried Aston in the opening round of the Le Mans Series at Le Castellet will be Stefan Mücke (D), Harold Primat (CH) and Darren Turner (GB), who will get the first opportunity to test the 009 AMR-One under race conditions.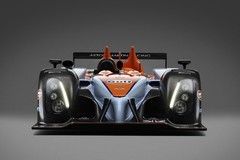 Aston Martin Racing team principal, George Howard-Chappell said: "We have been through a tough development phase since unveiling the car in late February. Since then we have performed a shakedown at Fen End and Snetterton and conducted a first test at Dijon-Prenois in France with more work being required to get ourselves up to a competitive position.
"Initial feedback from the drivers is very positive with reports of good stability, brake and mechanical feel. Paul Ricard will be our first real-world test, and we aim to learn as much as possible about the new car. This is the very start of a two year programme and we aim to become competitive as quickly as possible."
Good luck chaps; we look forward to cheering you on at La Sarthe in June.