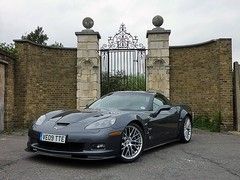 That last bastion of big-capacity performance motoring, the Chevrolet Corvette, could be about to cave to downsizing pressure and introduce a small-capacity turbo motor in the next-generation C7 version.
According to TheDetroitBureau.com, the new engine will have a capacity of a little more than 3.0 litres (yes, we know - that's only really 'small capacity' in US terms), with a high rev limit, overhead cams and turbocharging helping it to produce an expected 400bhp-plus.
The move is symptomatic of a new Corvette that, according to insiders (at least according to insiders according to TheDetroitBureau.com), is aiming at appealing to younger buyers who would otherwise be tempted by the likes of Porsche, Lamborghini and Ferrari.
But it seems that the classic Corvette mould isn't being entirely broken - a big-block OHV version will apparently still be available for those who still subscribe to the adage that 'there ain't no replacement for displacement'.