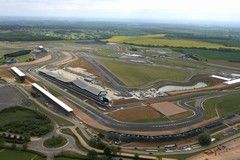 You're probably well aware of this already (being as you've clicked on a story to do with the Brit GP we'll assume you're what the Americans call a 'race fan'), but there's a bit of an unusual British GP this weekend. And tickets for the first GP at the new-look Silverstone are sold out.
Well, tickets for the actual British GP race day are - there are still tickets available for the Friday and Saturday.
Should be a pretty interesting one, too. There are two British former world champions in fast cars to cheer on, and the up-and-coming Paul Di Resta starting in his first home GP. If you're one of the lucky 120,000 expected to turn up this Sunday you'll also be treated to the first GP at Silverstone with the new start/finish straight and new first corners.
Sadly, though, if you haven't already got race tickets you'll be better off enjoying it from your sofa, listening to the dulcet tones of Brundle and DC on the Beeb - 'cos you won't be able to buy a ticket on the gate.
Might be better that way, mind - 'light rain showers' are forecast for Silverstone on Sunday, and a wet F1 race is generally better off observed via the TV...