robm3's Profile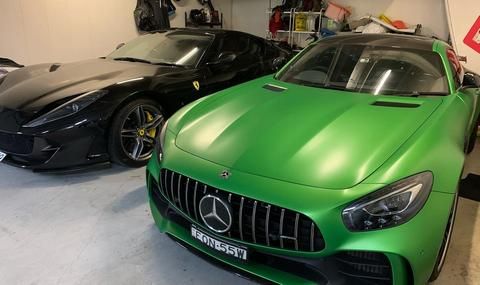 robm3
Sydney, Australia
Name

Robin E

Member Since

8th May 2005

Total Posts

4,249

Occupation

I'm now doing part time gigs here and there but made enough in the past to just enjoy life a bit :)
Notes
For all it's fine points (and there are many), Australia is rubbish if you like fast cars, driving swiftly and safely. A multitude of large fines means I take my love of speed and toys to our magnificent waterways and oceans instead.
Currently my fleet is:
Mercedes GLE 6.3 AMG S
Discovery 3 workhorse
Defender 110 - Should be doing the country work but as it's new the family are using in urbanville.
F-Type S - great car, plagued by little faults but hey you need a convertible in Sydney.
Ducati Hypermoto - Mid-Life crisis machine, great to hoon around the coast on.
Four Winns 240 Horizon speedboat - 6.2 V8, tuned and loud. will do 55mph which is pretty quick on the water.
Jeaneau 795 Merry Fisher
2015 Malibu VLX wakeboat
Two Seadoo jetskis - new models, loads of fun.
And a Gaff Rigged Sailboat for chilling out on (actually, as I get older, this really is turning into my favorite toy!)
Past (decent) Cars -plenty of rubbish ones too but can't list em here.
Ultima GTR
BMW E60 M5 Touring
M3 CSL
E46 M3
997 Gt
Jag S Type R
Lotus Sport 160
Volvo T5r (in pale yellow)
Alfa 156
Pug 405 Mi16
Alfa 147
Pug 406 coupe
Mazda Capella - really liked this but was stolen

Mitsubishi Starion (okay, I was only 22 and it was pretty cool when new)
1969 Chrysler VF Valiant Coupe (had two)Lancia Beta Coupe (ex Rally Car so was kinda cool when I was 19)
Probably others but can't think now..
Past Decent Bikes:
Honda VFR's (had three, 92, 98 and 2003 models - brilliant bikes)
BMW 650 (good big trailie that was fun offroad)
Suzuki RM 250 (the mother of all trailbikes)
Yamaha RD250 LC (what all beginners should get, fast and decent handling
Member information
Nickname
robm3
Name
Robin E
Member Since
8th May 2005
Total Posts
4,249
Occupation
I'm now doing part time gigs here and there but made enough in the past to just enjoy life a bit :) 
Region
Sydney 
Country
Australia 
Notes

For all it's fine points (and there are many), Australia is rubbish if you like fast cars, driving swiftly and safely. A multitude of large fines means I take my love of speed and toys to our magnificent waterways and oceans instead.

Currently my fleet is:

Mercedes GLE 6.3 AMG S

Discovery 3 workhorse

Defender 110 - Should be doing the country work but as it's new the family are using in urbanville.

F-Type S - great car, plagued by little faults but hey you need a convertible in Sydney.

Ducati Hypermoto - Mid-Life crisis machine, great to hoon around the coast on.

Four Winns 240 Horizon speedboat - 6.2 V8, tuned and loud. will do 55mph which is pretty quick on the water.

Jeaneau 795 Merry Fisher

2015 Malibu VLX wakeboat

Two Seadoo jetskis - new models, loads of fun.

And a Gaff Rigged Sailboat for chilling out on (actually, as I get older, this really is turning into my favorite toy!)

Past (decent) Cars -plenty of rubbish ones too but can't list em here.

Ultima GTR

BMW E60 M5 Touring

M3 CSL

E46 M3

997 Gt

Jag S Type R

Lotus Sport 160

Volvo T5r (in pale yellow)

Alfa 156

Pug 405 Mi16

Alfa 147

Pug 406 coupe

Mazda Capella - really liked this but was stolen

Mitsubishi Starion (okay, I was only 22 and it was pretty cool when new)

1969 Chrysler VF Valiant Coupe (had two)Lancia Beta Coupe (ex Rally Car so was kinda cool when I was 19)

Probably others but can't think now..

Past Decent Bikes:

Honda VFR's (had three, 92, 98 and 2003 models - brilliant bikes)

BMW 650 (good big trailie that was fun offroad)

Suzuki RM 250 (the mother of all trailbikes)

Yamaha RD250 LC (what all beginners should get, fast and decent handling