tvrtuscans's Profile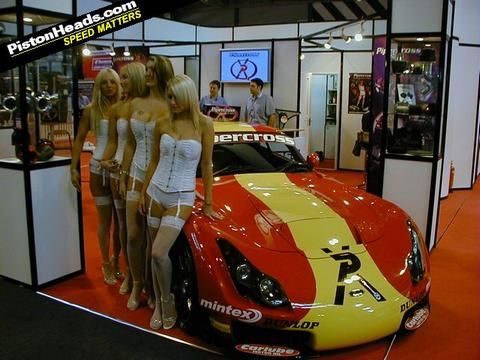 tvrtuscans
Buckinghamshire, United Kingdom
Name

Tony Martin

Member Since

3rd September 2006

Total Posts

827

Occupation

Guinness Adorer,Change Junkie and Professional Nosey Parker

Website
Notes
Sagaris RT (Road/Track) Prototype. Chassis Number 001.Date of Manufacture 18th November 2004. Photo at the Jan 2005 NEC Auto Sport Show on the Pipercross stand.
Conceived and badged 'RT' by John Reid, TVR's Director of Motorsport, as a Sagaris Road/Track-day car (to run alongside the Tuscan Challenge series cars), it has "more power, open slats,different suspension, and a lightweight body and interior"
Built under the supervision of Mike Bennison, Line Forman,outside the Line Forman's office (where all 'specials' were built) around a month after construction, TVR decided to kill off a Sagaris/SP6 replacement to the Tuscan Challenge series, and the notion of manufacturing the Sagaris RT was shelved, with production focussing on the Sagaris road car. This vehicle is therefore the only RT ever built.
Originally painted just red, sometime in December 2004, it was given its rather 'distinctive' yellow stripe; these are John Reid's racing colours.
Road registered on the 20th January 2005, this vehicle then was at various points, John Reid's and then NS's 'company car'; it finally became a development mule for TVR in the spring of 2005. The factory records show the vehicle has had at least two engines, three gearboxes (including the experimental sequential dog box used in the Le Mans cars), and two differentials, as well as numerous other modifications.
It was lent to stunt driver Terry Grant; in June 2006 it broke the Guinness World Record for the number of consecutive donuts in a car - 73.
Bought directly from TVR, it has never been re-built, and with the exception of some paintwork (by Surface & Design - re-sprayed in the same spray booth it was originally sprayed in by the same bloke who sprayed it originally), it is exactly as it left the factory, including its original Sparko seats, PI Research Datalogger, Scorpion exhausts, Compomotive wheels,unique Sagaris RT boot badge and.....tax disc holder! It's a little bit of TVR/British motoring history so originality is absolutely everything.....and......its completely insane.....Car featured on the TVR CC stand at the Nov 2012 NEC Classic Car Show.
Also own the T350 Pre-Production Prototype and Press Car.
PJ52 FKX 2002 TVR T350 Coupe/Targa
(Pre-Production Prototype and 2002 British International Motor Show T350 Launch Car)
Virtually moth-balled for 9 years, this is the original T350 pre-production prototype and 2002 International Motor Show car; as such it is the progenitor of every other of the 366 T350's built and the subsequent 155 Sagaris derivatives.
Provenance
This vehicle was extensively used as a prototype and factory vehicle by TVR and is effectively at least two prototypes in one.
T350c (Coupe) Prototype
As with all pre-production prototype vehicles, it was originally built outside the Line Forman's office at Bristol Avenue, being completed during September 2002.
Painted in distinctive Chameleon Green on silver spiders, it was the very first T350 unveiled to the press on the 22nd October 2002 at the British International Motor Show at the NEC. With typical TVR promotional flair, it was actually driven onto the TVR show stand by TVR owner Peter Wheeler himself. At this point it was a T350c (coupe) with a blue half hide interior and blue carpets.
http://www.tvr-car-club.co.uk/past_events/motorsho...
Road registered on the 8th November 2002, some two months before customer T350's began being delivered in January 2003, it is the vehicle used in the great majority of TVR's T350 launch and promotional material. This included fliers, Christmas cards, sales brochures and an extremely large wall poster of the car which greeted visitors to TVR's reception area at Bristol Avenue. There was even a radio-controlled model of the car produced for sale to customers.
Aside from being widely loaned out to the TVR dealer network, notably, it was used, together with both silver and yellow T350's as a third press demonstrator, appearing in a lengthy slot on Top Gear where amongst other things, the Stig had a 'moment' in it:
http://www.youtube.com/watch?v=MhZDUgHSQKU
T350t (Targa) Prototype
After the T350c model launch, and as customer T350's were being built and delivered, in March and early April 2003 the car became the development mule and prototype for the T350t (targa) variant.
The development process ultimately resulted in two holes being cut into the roof section, a strengthening bar introduced between the screen and rear roll bar, and two carbon fibre roof panels produced to keep the weather out. This resulted in a vehicle with not as clean lines as the coupe, the targa having the two roof pods, but it did have the advantage of open air motoring when required.
Peter Wheeler himself was involved in the development and subsequent road testing of the car during April. At the same time the interior was also modified, retaining the blue half hide but with carpets changed to black with blue piping.
Ultimately this car then became the T350t launch vehicle, when towards the end of July 2003, some 10 months from being unveiled as the new T350 coupe, it was re-presented to the press as the all new T350t !...with customer cars being first delivered from September of that year.
T350 Racing/Red Rose Prototype
As a factory development mule, this car has many mechanical upgrades.
The last engine installed by the factory into this vehicle is a very early 4ltr speed six engine from 1999 week 8. It was fully rebuilt by the factory into a race specified and blueprinted 4.0 litre TuscanS Speed Six engine heavily breathed on by the factory. The internals of the engine include steel crank and forged pistons, with a Tuscan race ECU. A hugely powerful unit, somewhat docile under 6000 rpm, over 6000rpm it has massive grunt.
Alongside this car being both the T350 coupe and targa prototype, it was also likely used as the factory development mule for a planned new race series.
TVR were, in autumn 2002, considering replacing the Tuscan Challenge AJPV8 engined series with a Speed Six engined competition and were developing the Speed Six power unit accordingly. Initial thoughts were to have the T350 as the basis of the road/race car - as a consequence, As an aside, as a press demonstrator, this car therefore had particularly impressive performance and power plant reliability.
In addition to having a race development engine, as a road/race prototype, this vehicle also has a special lightweight vinylester body which is some 50kgs lighter than the standard T350 production GRP body. Along with it's carbon fibre roof section, it has up-rated breaks and numerous other factory modifications.
Ultimately the notion of the T350 becoming the basis of a new race series was shelved in favour of the Sagaris; this resulted in the Sagaris Road/ Track car development programme of 2004; the only car built in this programme being the well known Red and Yellow Sagaris Road/Track prototype PJ54 WNL.
Cancelling the T350 based race programme, this car, being a very high performance T350, directly led to the development and launch of the Red Rose lightweight T350c and T350t derivatives. Effectively therefore, this car was the very first Red Rose T350.
This car was subsequently used as both a factory development and promotional vehicle for some 3 years then, in 2005, Peter Wheeler was persuaded to sell the car, something he apparently did very reluctantly, it being one of his favourites and apparently having a soft spot for the vehicle.
It has never been rebuilt and it is exactly as was handed over by the factory.
Since its sale it has been virtually moth-balled from 2005 - 2014; it has 26,000 miles on the clock - the great majority of these miles put on by the factory.
In short this car has fabulous TVR factory provenance second to none.
Specification and Performance
Performance figures for a production T350 with a standard 3.6 litre Speed Six engine are:
Max Power 350 bhp @7500 rpm
Max Torque 290 ft. lbs @ 5500 rpm
0 - 60 mph 4.4 secs
0 - 100 mph 9.5 secs
Maximum +175 mph
With a 4.0 litre S specification engine, lightweight body, bigger brakes and modified suspension, performance figures for a Red Rose T350 are more akin to a standard production TVR Sagaris with a 0 - 60 mph figure of 3.7 secs and maximum speed of +195 mph. As a factory prototype and press car, this vehicle has somewhat better performance than a standard Red Rose car.
This T350 is a little bit of TVR/British motoring history and, despite it's distinctive paint scheme, is fairly understated - when given it's head however, it pulls a simply massive punch.
Overall Production Figures
T350 Prototype/Press Car - 1
Other T350 Press Cars - 2
T350c Coupe - 287 (240 now remaining as UK registered)
T350t Targa - 79 (67 now remaining as UK registered)
Red Rose 4.0 litre Specification - 25
Chassis Number:
Original Engine Number: P6363021 and 0241P6363020
Current Engine Number: 908P6401129
Body Code 090
Diff 3.45:1 ratio
Tuscan wiring loom at the rear of the vehicle
The front of the car is very 'prototype'
It has a Sagaris type oil cooler - originally unmounted to the body
The radiator is mounted in a horizontal position rather than angled as normal
Respectively, the Red Rose coupe, unveiled in October 2003 and targa, in early 2004, Red Rose T350's had a 4.0 litre S specification engine, lightweight body, bigger brakes and modified suspension. In total, some 25 production Red Rose T350's were built by the factory - so in themselves are extremely rare and sought-after vehicles.
I previously owned a:
- 2003 TuscanS Mk1 which basically did exactly what it said on the can...and a
- 1998 4.5 Cerbera. Body off concourse rebuild by Darren Field of Radtech. Car featured on the TVR CC stand at the Nov 2012 NEC Classic Car Show. Perfect and immaculate. An epic machine now lovingly owned by Marcus who lives near Lake Constance in Germany
Member information
Nickname
tvrtuscans
Name
Tony Martin
Member Since
3rd September 2006
Total Posts
827
Occupation
Guinness Adorer,Change Junkie and Professional Nosey Parker 
Region
Buckinghamshire 
Country
United Kingdom 
My Website
twpclimited.com
Notes

Sagaris RT (Road/Track) Prototype. Chassis Number 001.Date of Manufacture 18th November 2004. Photo at the Jan 2005 NEC Auto Sport Show on the Pipercross stand.

Conceived and badged 'RT' by John Reid, TVR's Director of Motorsport, as a Sagaris Road/Track-day car (to run alongside the Tuscan Challenge series cars), it has "more power, open slats,different suspension, and a lightweight body and interior"

Built under the supervision of Mike Bennison, Line Forman,outside the Line Forman's office (where all 'specials' were built) around a month after construction, TVR decided to kill off a Sagaris/SP6 replacement to the Tuscan Challenge series, and the notion of manufacturing the Sagaris RT was shelved, with production focussing on the Sagaris road car. This vehicle is therefore the only RT ever built.

Originally painted just red, sometime in December 2004, it was given its rather 'distinctive' yellow stripe; these are John Reid's racing colours.

Road registered on the 20th January 2005, this vehicle then was at various points, John Reid's and then NS's 'company car'; it finally became a development mule for TVR in the spring of 2005. The factory records show the vehicle has had at least two engines, three gearboxes (including the experimental sequential dog box used in the Le Mans cars), and two differentials, as well as numerous other modifications.

It was lent to stunt driver Terry Grant; in June 2006 it broke the Guinness World Record for the number of consecutive donuts in a car - 73.

Bought directly from TVR, it has never been re-built, and with the exception of some paintwork (by Surface & Design - re-sprayed in the same spray booth it was originally sprayed in by the same bloke who sprayed it originally), it is exactly as it left the factory, including its original Sparko seats, PI Research Datalogger, Scorpion exhausts, Compomotive wheels,unique Sagaris RT boot badge and.....tax disc holder! It's a little bit of TVR/British motoring history so originality is absolutely everything.....and......its completely insane.....Car featured on the TVR CC stand at the Nov 2012 NEC Classic Car Show.

Also own the T350 Pre-Production Prototype and Press Car.

PJ52 FKX 2002 TVR T350 Coupe/Targa

(Pre-Production Prototype and 2002 British International Motor Show T350 Launch Car)

Virtually moth-balled for 9 years, this is the original T350 pre-production prototype and 2002 International Motor Show car; as such it is the progenitor of every other of the 366 T350's built and the subsequent 155 Sagaris derivatives.

Provenance

This vehicle was extensively used as a prototype and factory vehicle by TVR and is effectively at least two prototypes in one.

T350c (Coupe) Prototype

As with all pre-production prototype vehicles, it was originally built outside the Line Forman's office at Bristol Avenue, being completed during September 2002.

Painted in distinctive Chameleon Green on silver spiders, it was the very first T350 unveiled to the press on the 22nd October 2002 at the British International Motor Show at the NEC. With typical TVR promotional flair, it was actually driven onto the TVR show stand by TVR owner Peter Wheeler himself. At this point it was a T350c (coupe) with a blue half hide interior and blue carpets.

http://www.tvr-car-club.co.uk/past_events/motorsho...

Road registered on the 8th November 2002, some two months before customer T350's began being delivered in January 2003, it is the vehicle used in the great majority of TVR's T350 launch and promotional material. This included fliers, Christmas cards, sales brochures and an extremely large wall poster of the car which greeted visitors to TVR's reception area at Bristol Avenue. There was even a radio-controlled model of the car produced for sale to customers.

Aside from being widely loaned out to the TVR dealer network, notably, it was used, together with both silver and yellow T350's as a third press demonstrator, appearing in a lengthy slot on Top Gear where amongst other things, the Stig had a 'moment' in it:

http://www.youtube.com/watch?v=MhZDUgHSQKU

T350t (Targa) Prototype

After the T350c model launch, and as customer T350's were being built and delivered, in March and early April 2003 the car became the development mule and prototype for the T350t (targa) variant.

The development process ultimately resulted in two holes being cut into the roof section, a strengthening bar introduced between the screen and rear roll bar, and two carbon fibre roof panels produced to keep the weather out. This resulted in a vehicle with not as clean lines as the coupe, the targa having the two roof pods, but it did have the advantage of open air motoring when required.

Peter Wheeler himself was involved in the development and subsequent road testing of the car during April. At the same time the interior was also modified, retaining the blue half hide but with carpets changed to black with blue piping.

Ultimately this car then became the T350t launch vehicle, when towards the end of July 2003, some 10 months from being unveiled as the new T350 coupe, it was re-presented to the press as the all new T350t !...with customer cars being first delivered from September of that year.

T350 Racing/Red Rose Prototype

As a factory development mule, this car has many mechanical upgrades.

The last engine installed by the factory into this vehicle is a very early 4ltr speed six engine from 1999 week 8. It was fully rebuilt by the factory into a race specified and blueprinted 4.0 litre TuscanS Speed Six engine heavily breathed on by the factory. The internals of the engine include steel crank and forged pistons, with a Tuscan race ECU. A hugely powerful unit, somewhat docile under 6000 rpm, over 6000rpm it has massive grunt.

Alongside this car being both the T350 coupe and targa prototype, it was also likely used as the factory development mule for a planned new race series.

TVR were, in autumn 2002, considering replacing the Tuscan Challenge AJPV8 engined series with a Speed Six engined competition and were developing the Speed Six power unit accordingly. Initial thoughts were to have the T350 as the basis of the road/race car - as a consequence, As an aside, as a press demonstrator, this car therefore had particularly impressive performance and power plant reliability.

In addition to having a race development engine, as a road/race prototype, this vehicle also has a special lightweight vinylester body which is some 50kgs lighter than the standard T350 production GRP body. Along with it's carbon fibre roof section, it has up-rated breaks and numerous other factory modifications.

Ultimately the notion of the T350 becoming the basis of a new race series was shelved in favour of the Sagaris; this resulted in the Sagaris Road/ Track car development programme of 2004; the only car built in this programme being the well known Red and Yellow Sagaris Road/Track prototype PJ54 WNL.

Cancelling the T350 based race programme, this car, being a very high performance T350, directly led to the development and launch of the Red Rose lightweight T350c and T350t derivatives. Effectively therefore, this car was the very first Red Rose T350.

This car was subsequently used as both a factory development and promotional vehicle for some 3 years then, in 2005, Peter Wheeler was persuaded to sell the car, something he apparently did very reluctantly, it being one of his favourites and apparently having a soft spot for the vehicle.

It has never been rebuilt and it is exactly as was handed over by the factory.

Since its sale it has been virtually moth-balled from 2005 - 2014; it has 26,000 miles on the clock - the great majority of these miles put on by the factory.

In short this car has fabulous TVR factory provenance second to none.

Specification and Performance

Performance figures for a production T350 with a standard 3.6 litre Speed Six engine are:

Max Power 350 bhp @7500 rpm

Max Torque 290 ft. lbs @ 5500 rpm

0 - 60 mph 4.4 secs

0 - 100 mph 9.5 secs

Maximum +175 mph

With a 4.0 litre S specification engine, lightweight body, bigger brakes and modified suspension, performance figures for a Red Rose T350 are more akin to a standard production TVR Sagaris with a 0 - 60 mph figure of 3.7 secs and maximum speed of +195 mph. As a factory prototype and press car, this vehicle has somewhat better performance than a standard Red Rose car.

This T350 is a little bit of TVR/British motoring history and, despite it's distinctive paint scheme, is fairly understated - when given it's head however, it pulls a simply massive punch.

Overall Production Figures

T350 Prototype/Press Car - 1

Other T350 Press Cars - 2

T350c Coupe - 287 (240 now remaining as UK registered)

T350t Targa - 79 (67 now remaining as UK registered)

Red Rose 4.0 litre Specification - 25

Chassis Number:

Original Engine Number: P6363021 and 0241P6363020

Current Engine Number: 908P6401129

Body Code 090

Diff 3.45:1 ratio

Tuscan wiring loom at the rear of the vehicle

The front of the car is very 'prototype'

It has a Sagaris type oil cooler - originally unmounted to the body

The radiator is mounted in a horizontal position rather than angled as normal

Respectively, the Red Rose coupe, unveiled in October 2003 and targa, in early 2004, Red Rose T350's had a 4.0 litre S specification engine, lightweight body, bigger brakes and modified suspension. In total, some 25 production Red Rose T350's were built by the factory - so in themselves are extremely rare and sought-after vehicles.

I previously owned a:

- 2003 TuscanS Mk1 which basically did exactly what it said on the can...and a

- 1998 4.5 Cerbera. Body off concourse rebuild by Darren Field of Radtech. Car featured on the TVR CC stand at the Nov 2012 NEC Classic Car Show. Perfect and immaculate. An epic machine now lovingly owned by Marcus who lives near Lake Constance in Germany