Sarge 4x4's Profile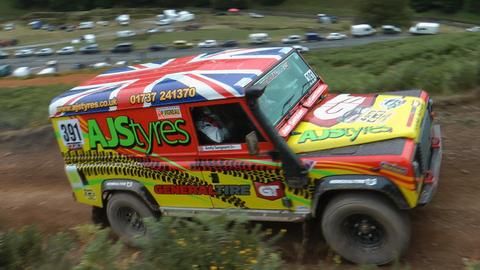 Sarge 4x4
Surrey, United Kingdom
Name

Andy Sargeant

Member Since

3rd March 2007

Total Posts

2,371

Occupation

Business Owner/Tyre dealer

Website
Notes
I have a weakness for anything with an engine and love BHP and Torque so had to buy the new VXR8 Gen-F GTS in White, this is my forth VXR8 and for sure a massive step up in performance and driveability with some fantastic features, Walkinshaw Performance have helped boost the power to 761.9 bhp.
Defender 90 200tdi with all the goodies, also in the stable is my Defender 110 TD5 off-road racer.
Toyota Landcruiser Invinsable for the wife and have just gone full circle and found a low miles Toyota Amazon for towing.
A Yamaha Grizzly 700 quad and a Can-Am Commander 1000XT,and a very nice Hotchkiss M201 Jeep
4x4 and Hi performance tyre supplier just off J8, M25 in Surrey, and Landrover specialist for over 30 years. <a href="
www.ajstyres.co.uk">
<a href="http://www.ajstyres.co.uk">www.ajstyres.co.uk
</a></a>
Member information
Nickname
Sarge 4x4
Name
Andy Sargeant
Member Since
3rd March 2007
Total Posts
2,371
Occupation
Business Owner/Tyre dealer 
Region
Surrey 
Country
United Kingdom 
My Website
www.ajstyres.co.uk
Notes

I have a weakness for anything with an engine and love BHP and Torque so had to buy the new VXR8 Gen-F GTS in White, this is my forth VXR8 and for sure a massive step up in performance and driveability with some fantastic features, Walkinshaw Performance have helped boost the power to 761.9 bhp.

Defender 90 200tdi with all the goodies, also in the stable is my Defender 110 TD5 off-road racer.

Toyota Landcruiser Invinsable for the wife and have just gone full circle and found a low miles Toyota Amazon for towing.

A Yamaha Grizzly 700 quad and a Can-Am Commander 1000XT,and a very nice Hotchkiss M201 Jeep

4x4 and Hi performance tyre supplier just off J8, M25 in Surrey, and Landrover specialist for over 30 years. <a href="

www.ajstyres.co.uk"><a href="http://www.ajstyres.co.uk">www.ajstyres.co.uk

</a></a>