GTRene's Profile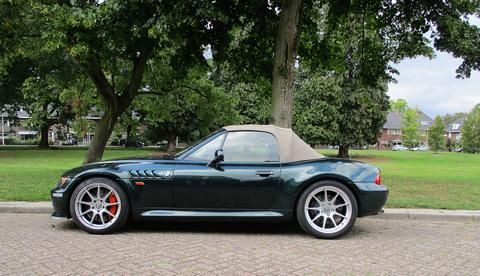 GTRene
Almelo, Netherlands
Name

Rene Stam

Member Since

5th August 2005

Total Posts

10,609
Notes
I'm Dutch(the Netherlands) so sorry for my poor English in writing or mistakes/misunderstanding?
I remembered a special one off car from some magazines long time ago, back in 1998/1999, a Hartge Z3 coupe 4.7 which became later a 5.0, the only one worldwide ever made, by Herbert Hartge, incl its own chassis-number (so no longer a BMW) and thought, I send that man from which I know was the latest owner/collector an e-mail and see if its for sale.
That dream-car, a M coupe basis, started new and bought by Herbert Hartge (German BMW tuner and also Manufacturer Hartge cars) began as a prototype with the basis S50B32 engine enlarged to 3.5 back in 1998 and seen in some car magazines as if what they could do with a M coupe (Z3) to sell that package to enthusiasts.
In 1999 when the first V8, a 4.7 came in, it also became a real Hartge Z47 on paper and came with a new Hartge chassis-number to get it legally on the road as a manufactured Hartge.
In 2001 came in the special 5.0L engine, which also was found in the Ascari Ecosse 5.0 (last 3 cars) and so the car went through another big inspection for road use and changed legal paperwork for the final product.
A year later (2002) this Hartge was for sale, then almost 4 years old, but still way to expensive for us in the Netherlands, about 160.000,-euro! incl taxes (in Germany it was still 120.000,-euro in 2002) but a patience man can get rewarded with what he loves, and so since 09-02-2007 the car was mine ;-)
Its a original Hartge Z3 coupe 5.0 V8 (Z47) first owner Herbert Hartge himself so I'm very very pleased I could own this car!
It has about 520nm torque and around 420hp although for the new paperwork it was restricted to 350hp as Z47 type aproval, ofcorse the restriction is gone.
Their standard 5.0 engines from those days to sell to the greater public came with first 350 and later 370hp, but those were a bit different then the engine that came in this Hartge Z3 5.0 which shares the same engine and tuning level as the shared Ascari Ecosse which they tested in this car and lays also in 3 Ascari Ecosse's the last 3 so it has a bit extra grunt :-)
here a short impression of my car a short phone video made by a unknown person that saw me driving away from a bmw car dealer show:
http://www.youtube.com/watch?v=Roquyq0W2xk
http://www.pistonheads.com/gassing/topic.asp?t=355...
Here a few pictures of my unique toy.
and here my car which was on websites around the globe till this year, I believe still on some Hartge websites.
GTRene
Member information
Nickname
GTRene
Name
Rene Stam
Member Since
5th August 2005
Total Posts
10,609
Region
Almelo 
Country
Netherlands 
Notes

I'm Dutch(the Netherlands) so sorry for my poor English in writing or mistakes/misunderstanding?

I remembered a special one off car from some magazines long time ago, back in 1998/1999, a Hartge Z3 coupe 4.7 which became later a 5.0, the only one worldwide ever made, by Herbert Hartge, incl its own chassis-number (so no longer a BMW) and thought, I send that man from which I know was the latest owner/collector an e-mail and see if its for sale.

That dream-car, a M coupe basis, started new and bought by Herbert Hartge (German BMW tuner and also Manufacturer Hartge cars) began as a prototype with the basis S50B32 engine enlarged to 3.5 back in 1998 and seen in some car magazines as if what they could do with a M coupe (Z3) to sell that package to enthusiasts.

In 1999 when the first V8, a 4.7 came in, it also became a real Hartge Z47 on paper and came with a new Hartge chassis-number to get it legally on the road as a manufactured Hartge.

In 2001 came in the special 5.0L engine, which also was found in the Ascari Ecosse 5.0 (last 3 cars) and so the car went through another big inspection for road use and changed legal paperwork for the final product.

A year later (2002) this Hartge was for sale, then almost 4 years old, but still way to expensive for us in the Netherlands, about 160.000,-euro! incl taxes (in Germany it was still 120.000,-euro in 2002) but a patience man can get rewarded with what he loves, and so since 09-02-2007 the car was mine ;-)

Its a original Hartge Z3 coupe 5.0 V8 (Z47) first owner Herbert Hartge himself so I'm very very pleased I could own this car!

It has about 520nm torque and around 420hp although for the new paperwork it was restricted to 350hp as Z47 type aproval, ofcorse the restriction is gone.

Their standard 5.0 engines from those days to sell to the greater public came with first 350 and later 370hp, but those were a bit different then the engine that came in this Hartge Z3 5.0 which shares the same engine and tuning level as the shared Ascari Ecosse which they tested in this car and lays also in 3 Ascari Ecosse's the last 3 so it has a bit extra grunt :-)

here a short impression of my car a short phone video made by a unknown person that saw me driving away from a bmw car dealer show:

http://www.youtube.com/watch?v=Roquyq0W2xkhttp://www.pistonheads.com/gassing/topic.asp?t=355...

Here a few pictures of my unique toy.

and here my car which was on websites around the globe till this year, I believe still on some Hartge websites.

GTRene