Tuesday 22nd November 2011
Porsche reveals 991 Cabrio
Well, it must have been at least five minutes since we last mentioned the 991
---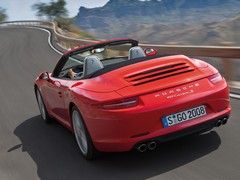 Does my bum look big in this Porsche?
Should we be paying the announcement of the cabrio version of the
new 991
any heed on PistonHeads? Probably not, given the amount of Porsche coverage over recent days.
Especially
not given that in a game of 'right Porsche, wrong Porsche' it's pretty clear which side of the line cabrio 911s sit.
Indeed, it could be said Porsche is just getting a bit greedy for column inches now. But here we are, writing about the first of the inevitable slew of 991 variants headed our way.
Information is limited at this point, though Porsche has released pricing and hinted at the roof boasting an "innovative, intelligent, lightweight design to reduce weight." It's still a traditional soft-top mind. Prices start at £79,947 for the Carrera Cabriolet and a burly £89,740 for the S version. Engines and power outputs are as per the coupe we've just driven so 3.4-litre and 3.8-litre with 350hp and 400hp respectively. No performance figures have been released as yet but if you're bothered about such things you probably shouldn't, or wouldn't, be looking at a 911 Cabriolet in the first place.
If nothing else it should provide fresh fodder for the bad taste Porsche 911 configuration game currently raging after our earlier story.
Dan Trent