Thursday 26th April 2012
Spotted: Opel Manta i200/i400
Mad retro rally look Manta looks like a world of wide-arched fun
---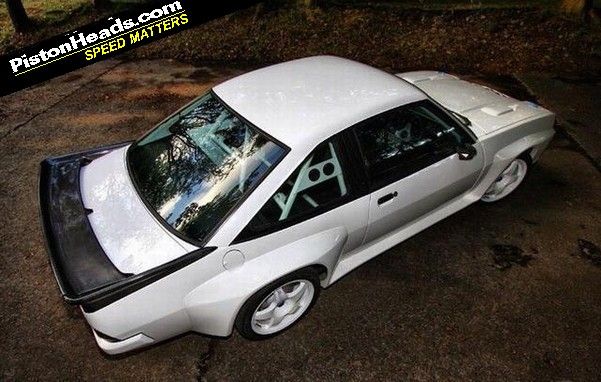 There's been a sense that, for some reason, the broad church of PistonHeads doesn't welcome tuned or modified cars. Certainly discussion of The Ronin's '
world's fastest Lotus
', the
'rat rod' BMW 2002
and that
slammed RS look 964 Carrera
has been brisk, opinionated and, at times, somewhat heated. And not just in the editorial!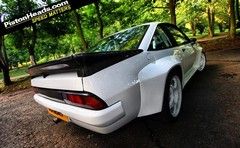 Is it as original? Probably not...
Passions run high enough with regular cars but when it's one person's vision and taste (or, just maybe, lack of it) expressed in four-wheeled form you can ramp the opinion factor up by a factor of ten.
Why this disclaimer? Well, without further digging we don't actually know much about the history of this wide-arched Opel Manta i400/i200 (ostensibly a Group B i200 wearing i400 body enhancements) and it's clear enough that it's been, for want of a better description, modded. And not, it would appear, in a way that's totally authentic to the car's vintage. For a taste of a more original i200 there's always this instead, a useful page on the background to the car here on the Opel Manta owners' club site.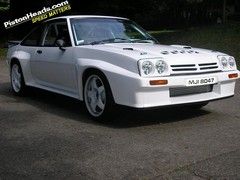 How much fun does this look? Lots...
Now this may well upset a few purists and, yes, we've been known to wear that T-shirt on occasion. But, basically, it's a case of pointing and staring and saying "wow, that looks cool and a whole load of fun." Which is why we thought we'd share it with you. Forgive us our trespasses and all that but, authentic or not, there's clearly a lot of mechanical love been lavished on this car and the end result just looks like it'd be a right hoot to drive.
See the original advert here. No tech info supplied but there's a detailed build spec in the ad.
Dan Trent