Wednesday 30th May 2012
Citroen C6 bids au revoir
Much loved but little bought, it's finally game over for the big Citroen in the UK
---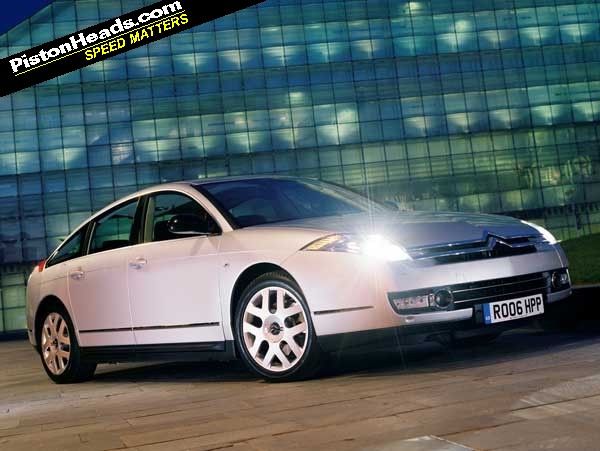 Citroen in the UK has axed its arresting but
glacial-selling C6
- right about the time the cheapest used versions are closing on £5,000 barge bargain territory.
The C6, which is still being sold on the Continent, marked a return to Citroen's quirky, design-led glory days when it was launched in 2006. That looooong bonnet, pendulous front overhang, concave rear window and stubby boot all recalled the wonderful CX from the 70s and 80s.
Powered by the 208hp 2.7-litre twin turbo V6 diesel from Ford, it'd waft to 60mph in under nine seconds and do it some comfort too.
But it was always going to struggle against the likes of the 5 Series at a price ranging from just under £30K to £37K and last year just four cars found homes in the UK. A decent year was 2008, when Citroen sold a whopping 354.
And of course, being a big Frenchie, values plummeted faster than a wine bottle off the Pont Neuf. We found this 2007 mid-spec Lignage 2.7 HDI with a healthy 99,000 miles on eBay for just £5,800. And a couple of slightly pricier ones can be found on the PH classifieds too. There are other engine options - the 173hp 2.2-litre diesel four is the one to hunt out for a manual gearbox and decent economy. The 3.0-litre V6 petrol is filed next to chicken molars on eBay, as is the most desirable engine, the later 3.0-litre version of the V6 diesel. That ups power to 240hp and lowers the CO2 below the point you've got a £400+ tax bill, one problem with the 2.7 V6.
According to Citroen the arrival of the DS5 has speeded the C6's appointment with Madame Guillotine. "It's our new flagship in the UK. Why confuse things?" a spokesman told us.
Interestingly, Citroen is now predominantly a seller of warm hatches in the UK. In April over a quarter of its sales were the DS3 hatchback, the most popular version of which is the 1.6-litre petrol turbo.
NickGibbs