Thursday 7th June 2012
MY2013 McLaren MP4-12C - official details
More power and a raft of detail changes for latest version of MP4-12C
---
Yesterday we revealed
McLaren is to add 25hp to its MP4-12C
to take its power to 625hp, an upgrade that would include a free-of-charge retrofit to the 1,000 or so cars already delivered. Now McLaren has revealed the full gen on its 2013 model year upgrades for the 12C.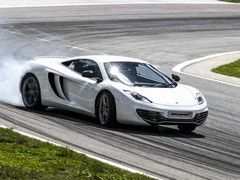 The power boost is the headline grabbing news of course but there's a lot more to it than that, the seven-speed SSG gearbox also updated for increased responsiveness (
hurrah!
) via revised control and clutch settings. The extra power also drops the 0-124mph sprint by a tenth of a second to 8.8secs, while the 0-186mph sprint is cut by a full second to 26.5secs.
Meanwhile the Intake Sound Generator, added in response to complaints of lack of drama under power, will gain driver selectable modes so you can tweak it to your own particular tastes - previously it was selectable as part of the three 'powertrain' modes.
Other changes include replacing the 'touch sensor' with a small button mounted on each door. "In line with customer feedback," says McLaren's press release, "this modification is intended to simplify the user experience." Which translates roughly as 'customers couldn't get the blasted system to work, the new button should reduce swearing...'
The headlights will now also automatically switch on when the car detects rain, the climate control system has been revised, and a speed hump-clearing vehicle lift function that raises the car by 40mm at the front and 25mm at the rear will be added as an option.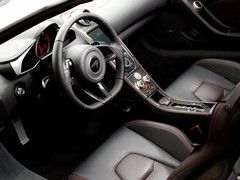 McLaren has added a swathe of new options, too, including Volcano Yellow paint, a new five-spoke forged alloy wheel design (available in various finishes), and a new higher-quality optional leather trim. Having seen the Volcano Yellow on
our factory tour earlierin the year
- and been sworn to secrecy on it - it's certainly an eye-catching option.
Of the changes, existing owners will get (as well as the 625hp power boost), the revised transmission, the programmable intake sound generator, the headlights linked to rain sensor when in automatic mode, Easy-Exit electric seat function incorporating Seat Return (if specified), and new Meridian audio equaliser settings (if specified).
The changes will come into effect from October, along with a price hike that brings the basic price of a 12C up from £168,500 to £176,000.
Riggers