Monday 16th July 2012
Drive the C63 Black Series!
Sinister Black Series C63 Coupe available for cut-price Brooklands drives for a limited period only
---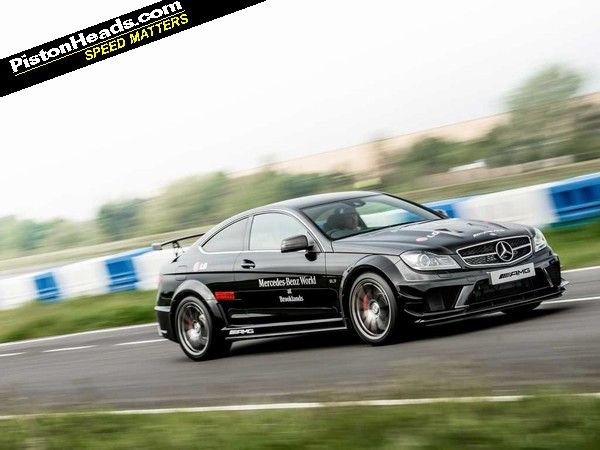 Letting a load of hacks, PH included, loose in AMGs around Goodwood last Friday demonstrates Mercedes clearly doesn't subscribe to Friday 13th-style superstitions,
the
C63 Black Series
among them now available (with tyres suitably scrubbed in by PH) to drive at Mercedes-Benz World on infield of the old Brooklands circuit.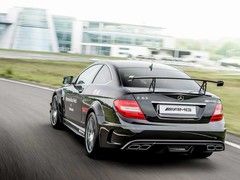 A taste - just a taste mind - is yours for £250
You can't blame a bit of swagger, given a 150 per cent year-to-date bounce in UK AMG sales off the back of the
new
SLK55
, continued (and deserved) popularity of
the C63
(over 600 sales - see you in the PH classifieds in a couple of years boys!) and arrival of the
new SL63
, the latter revealing frankly astonishing rates of progress around the Goodwood track. It may not be pretty but by heck it goes.
Having read Chris Harris's recent piece on the Black you're probably keen to see what all the fuss is about and for a limited period Mercedes is offering its Black Series Driving Experience at a specially reduced, if still fairly substantial, rate of £250. Sadly that doesn't quite get you the open Welsh roads enjoyedby Mr Harris, the reality being two 30-minute sessions that, ahem, "indulges raw driving dynamics with roar performance pleasure."
On the fast and flowing Goodwood circuit the Black had space to stretch its legs a little. Whether the same can be said in the confines of the rather tighter M-B World track and with the ESP button out of bounds and instructor's foot hovering over the Jesus pedal in the passenger footwell is another matter, but given that just 66 of the 600 cars due to be built will make it to the UK at all it's as close as many of us can hope to get.
Dan Trent