Monday 10th September 2012
Mini Paceman images
For when you need a more practical Mini that's not quite a Countryman...
---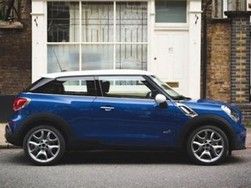 Say hello next Mini niche-filler, the Paceman. Based on the five-door Countryman but with less practicality (owing to its lowered roof and 3 doors) and more expense (expect a price rise of around £1,250 for equivalent spec), it will extend the Mini range to an incredible seven models.
However, whilst it's easy to criticise Mini for exploiting their style-led customer base, these undisguised images show a far more attractive shape than the boxy, bloated Countryman.
Its appearance is more squat and purposeful, these attributes no doubt aided by its reduced ride height (around 10mm) over the five-door car. Moreover, the 'Paceman' script emblazoned across the bootlid appears to emphasise width; as an aesthetic piece, it just seems to work. Either that, or the Countryman and Coupe were so bad that even a slightly more appealing shape seems miles better.
In terms of engines and specifications, the Paceman will be offered with all the engines and trims available on the Countryman; ALL4 four-wheel-drive is standard on all cars. The Paceman will be around 20kg lighter than the equivalent Countryman.
So if you'd like the practicality compromises of a coupe in a much larger and heavier 4WD body and can't afford a BMW X6, it looks like the Mini Paceman could be just the car for you. Expect to see it debut at the Paris Motor Show later this month, with UK sales beginning in 2013.
Matt Bird