Tuesday 11th September 2012
BMW E61 M5 Touring: Not Spotted
Chris Harris wonders where on earth the M5 wagons have gone.
---
All hail the emergence of a new PH sub-genre!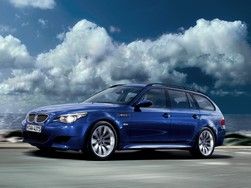 Or perhaps not, because this one is slightly irritating.
I have been looking at used E61 M5 Tourings for several years now. One day I might own one, then again I might not - but they have always served as a comfort blanket because they represent the most perfect window shopping fodder. A £75k dog-carrier smacked so hard with the depreciation stick it looked like the loss-curve could plunge it into negative equity. Of the few hundred brought into the UK there were always 20 in the PH classifieds to drool over and then shudder at the thought of the fuel bill.
Today there are two. A measly two.
So where are all the E61 M5 Tourings? Perhaps they've all been mashed into hedges, which is entirely plausible on worn rubber - maybe some have been pinched and exported. But the sad, unpalatable truth is that they have all been bought by canny lurkers who finally thought "Sod it, the fuel costs will be tragic, but for £20k I couldn't care less. It has a 500hp V10, and that's what matters."
Wish I'd done the same. So I'm not posting a link (Ed - err Chris, about that), because this is a not-spotted. Bugger.
Chris Harris