Thursday 13th September 2012
Professor Sid Watkins dies
Legendary F1 doctor passes away aged 84
---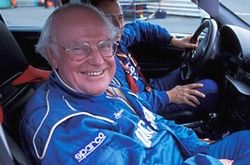 Professor Sid Watkins, the F1 doctor credited with saving the lives of many drivers through his tireless campaigning on safety, has died. He was 84.
Watkins worked as the medical delegate for the FIA for 26 years, and was the on-track medic for many years before retiring from the FIA in 2011. It was Watkins who was the first professional on scene following Ayrton Senna's tragic accident in 1994: the two were close friends.
Watkins also attended Rubens Barrichello's accident on the fateful Imola 94 weekend, and the former F1 driver (and now IRL pilot) has already taken to Twitter to pay tribute: 'It was Sid Watkins that saved my life in Imola 94. Great guy to be with, always happy... tks for everything u have done for us drivers. RIP' (@rubarrichello)
Other drivers have also tweeted their respect, including Alex Brundle who paid tribute in a particularly touching way: ''I've played a lot of football with my Dad. I wouldn't have if it wasn't for a bloke I never met called Sid Watkins. Never got to thank him.' (@AlexBrundle)
Drivers who crashed heavily and were tended to by Watkins include Gerhard Berger (Imola 1989), Erik Comas (Spa 1992 – and Senna was actually first on the scene, stopping his car and tending to him in a medically-trained way, after receiving tuition from Watkins), Martin Donnelly (Jerez 1990), Mika Hakkinen (Adelaide 1995, where Watkins performed an emergency tracheotomy) and Karl Wendliger (Monaco 1994).
Bernie Ecclestone introduced Watkins to F1 racing in 1978, appointing him race doctor from the Swedish Grand Prix. Over the years, he worked particularly closely with former FIA head Max Mosely and only stepped down as frontline medical officer in 2004. Watkins was also the first chairman of the FIA Expert Advisory Safety Committee, set up in 1994 following the death of Senna and Roland Ratzenberger.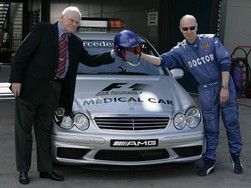 Watkins was also a world renowned neurosurgeon, and was awarded the OBE in 2002. He was born and trained in Liverpool, graduating as a Doctor of Medicine from the University of Liverpool in 1956. Remarkably, he conducted his work for the FIA alongside his full time job at Whitechapel Hospital in London.
In recent years, Watkins has enjoyed the more widespread recognition of his efforts he so richly deserves, after featuring heavily in the Senna film.
Last year, he joined the film makers in meeting with BAFTA and was reportedly a key part of the documentary winning the 2011 BAFTA for best documentary.
richardaucock