Friday 12th March 2010
Video: Audi Spyder Goes Underground
DTM pilot Mattias Ekstrom in weirdly-dubbed The Driver remake...
---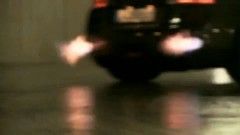 Since viral marketing is supposed to be 'cool', we're not sure what possessed the makers of this little classic to over-dub the original soundtrack with the help of a couple of throwbacks to a 1950s public information film. Or perhaps the Germans have just discovered irony, in which case we still don't get it!
Either way, there's some fun footage to watch as Audi's DTM racer Mattias Ekstrom gets to grips with the new R8 Spyder in an underground car park - the scenes are 'sort-of' reminiscent of classic movie The Driver, but with added flames...
Mattias Ekstrom tests the R8 Spyder
Click 'play' above to watch
Chris-R