Friday 2nd July 2010
Revealed: Range Rover Evoque
Baby Range Rover gets Victoria Beckham as a brand champion
---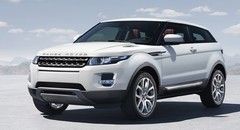 Evoque is based on the LRX concept
So it's Evoque, and not RRX, Storm or Ventura, all three of which names were under serious consideration to adorn the boot lid of the new baby Range Rover.
Instead, the newcomer gets a handle that's more in tune with the Range Rover brand's feminine side, and a celebrity champion to match in the form of Victoria Beckham.
Land Rover didn't approach the Beckhams, we learned at the glitzy launch in Kensington Palace last night, rather it was the other way round as David apparently has a bit of a thing for the Rangie. 'They (Beckham inc.) have wanted to do something with us for ages,' confided our well-placed tipster, 'but we've been saving them up for this.'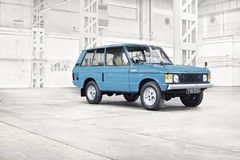 Gratuitous heritage shots...
Surprisingly perhaps, 'doing something' meant more than a simple celebrity appearance at the Evoque launch. Land Rover design boss Gerry McGovern used last night's event to announce a 'design collaboration' with Victoria Beckham around the new model. We learned later that the scope of the collaboration has actually not been decided, although it has been confirmed to PH that Victoria 'had lunch' with Gerry when they 'talked about the car'. There's no word on whether she brought her own crayons to the meeting...
Still, it's easy to be stuffy about this sort of marketing hype, but will anyone here on PH really mind if VB's input helps Land Rover shift another few boatloads of Evoques to the Yanks? It's all got to help that export driven recovery we're hanging out for, and Land Rover has already announced that 1,000 new jobs will be created at the Halewood plant in Liverpool when Evoque production gets up to speed next year.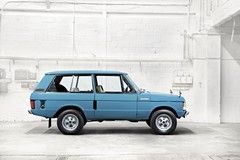 Happy 40th Birthday, Range Rover!
The Evoque itself seemed to be very warmly received by both the glitterati and the more down-to-earth element at last night's revels - which also marked the Range Rover brand's 40th birthday - and while no technical details have been released we did manage to glean a few interesting snippets from company personnel.
The car is based on the Freelander platform (albeit in both 2 and 4wd drive guise), but we can expect the ride and handling to have a sportier feel more in keeping with the Evoque's 'urban' character. We're also told there's been a lot of energy expended on weight-saving measures, so at the very least expect to find those curvy front wings to be made of plastic.
The Evoque will be launched properly at the Paris motor show in September, when all the technical details will be revealed as well as prices, but the ballpark starting point is £35k, with a £5k discount if you go 2wd. After launch, we've learned that Land Rover will be looking hard at ways to build an extended family around the car, with a five-door on the cards in future. It might be the smallest Range Rover, but it looks as though it's going to be big.
Chris-R