Friday 27th August 2010
Pic Of The Week: McLaren MP4-12C
Moody seaside shot makes us feel the fever for McLaren's styling
---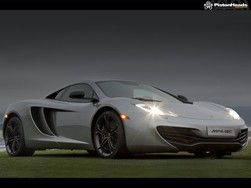 Click Here to Preview
It's not often we get to call a McLaren press release boring, but the one about the new MP4-12C starting its US dealer tour didn't really fire us up.
Until we spotted the picture that came with it, that is. It's a moody dusk (or perhaps dawn) shot of the firm's new supercar somewhere on the Pacific (we imagine) coastline, which was taken around the time of the car's recent Pebble Beach presentation.
This single shot of the Supernova Silver MP4-12C took us aback for the simple reason it's the first 'proper' arty portrait of the new McLaren that we've seen.
Looks gorgeous, doesn't it? And definitely one in the eye for the critics of the car's styling, we reckon. So who still thinks the 458 Italia is more stunning..?
Click below to download this week's wallpaper:
Normal (1280x1024)
WideScreen (1440x900)
SuperSize (2048x1536)