Friday 8th October 2010
Pic Of The Week: Audi Quattro Concept
No bum notes in today's POTW...
---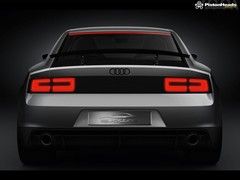 Click to preview
We know we've gone on about it a lot, but the simple fact is that we rather like Audi's new Quattro Concept, the company's homage to the 1984 Sport Quattro (or VW Corrado, if you believe
the thread attached to our previous story on the Quattro Concept
).
It's also a bit odd to use the rump of a car in POTW but, since the general PH consensus seems to be that the nose is not the Quattro Concept's best angle, we thought we'd hide it. Besides, this is the view most other road users will see of the car - it does do 0-62mph in a claimed 3.5secs, after all.
Anyway, enjoy - and keep those fingers crossed that Audi decides to make it.
Normal (1280x1024)
WideScreen (1440x900)
SuperSize (2048x1536)

Riggers