Thursday 14th October 2010
PH Fleet Update: Land Rover Defender
'Vive La Difference' as we take our Landie for a 'romantic' trip to Paris
---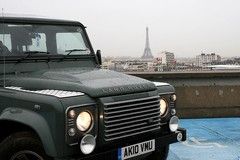 "Take the Defender to the Paris show," he said. "Do a bit of flag-waving - show those Parisians what a real 4x4 looks like". Chris-R's enthusiastic words were echoing around my head as I squeezed through the maniacal rush hour traffic, gently seething at the apparent stupidity of it all.
A battered Renault Twingo with not a single straight panel would surely be the most suitable weapon with which to attack the French capital and its psychotic scooterists, impatient motorists and laneless junctions - not a chunky off-roader with the turning circle of a super-tanker.
Still, there are distinct advantages to tackling city traffic in the Defender. Firstly, on the basis that might is right, people are more inclined to get out of your way than they perhaps would be if you were in a smaller car less seemingly capable of crushing other city drivers under your wheels. Despite its imposing stature, however, the big Landie is impressively slim-hipped - it's narrower than our Nissan 370z - and so can squeeze around awkwardly placed buses and other urban bottlenecks with surprising ease.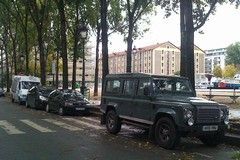 There are, however, two severe drawbacks to the Defender's city abilities - its height and its turning circle. At 2128mm tall, the Defender is a no-no for most multi-storey or underground car parks.
Finding an on-street space can be equally challenging, especially in the maze of back alleys of Paris's Latin Quarter, where I had rather masochistically booked myself a hotel. It's not so much the parallel parking that's tricky as trying to manage a three-point turn. Austin Powers's attempt to turn around an electric cart in a service tunnel in Dr Evil's lair would have sprung to the mind of anybody watching me.
The Landie was rather more accomplished as a long-distance cruiser.
Once you adjust to the wind noise and vibrations, you can sit back and enjoy the scenery, with the extra height giving you crucially more interesting and frequent glimpses of the northern French countryside than all but truckers and coach drivers enjoy.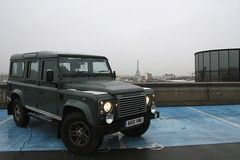 You can also drive unperturbed by the potential attentions of
les gendarmes
- even with foot nailed flat on the accelerator pedal - as the electronically limited top speed of 83mph is but 2mph north of the autoroute limit of 130kmh, hardly enough to worry the
boys en bleu
.
In short, the Defender actually makes a surprisingly effective weapon with which to fight the urban battle (and I'm damn sure a ratty Renault Twingo would be near useless in the muddy stuff). I'd almost go so far as to recommend a Defender as a steed for a foreign mini-break. Just make sure you book a hotel with some outdoor parking space...
PS. Don't forget Landie fans - we're still looking for (paying!) volunteers to join us for a fab evening at Eastnor Castle on Nov 13th.

Riggers