Monday 15th November 2010
PH M6 Gets Accidental Tree Surgery
Our BMW gets off lightly as a falling branch misses. Almost...
---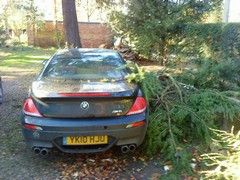 It could have been an awful lot worse
Following
the previously documented case of the mother-in-law's lightly singed sward
(by Mercedes SLS Gullwing), 'natural justice' appears to have been invoked as the good lady's garden exacted a painful revenge on our BMW M6 at the weekend.
It's still unclear as to whether the esteemed Frau talks to her trees, but following the traumatic events of Saturday night it seems a distinct possibility. Either way, a giant bough launched itself from a great height from one of her cedars, and struck the PH M6 a glancing blow on its fall to earth.
Oddly, the incident happened the night after gales swept through Nottinghamshire, but doubtless nature can provide a rational explanation.
There's going to be a bill, because although the bough narrowly missed crashing through the windscreen or the aluminium bonnet, it did catch the plastic front wing a glancing blow, cracking a seam and the edge of the headlamp assembly.
Two notable thoughts arising. First that the BMW's plastic wing has suffered remarkably little damage considering the size of the branch that clumped it.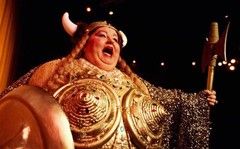 Don't worry, she'll never read this...
Second, that the mother-in-law has remained unusually taciturn on the subject...