Tuesday 29th May 2012
PistonHeads Le Mans Private Camping
Laverstoke Park Farm join PH and 1st-Tickets in Le Mans making the site better than ever.
---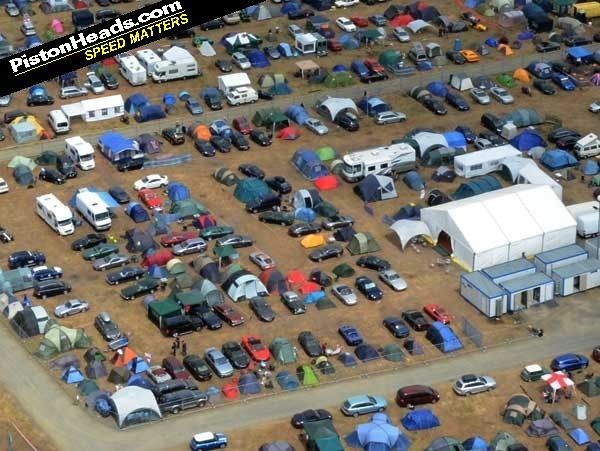 As we type, only
four pitches
remain available on the PistonHeads private campsite, run and managed by 1
st
-Tickets, so if you are still deciding on where to camp we have some great news that just might tip the balance for you (and will please those already camping with us).
Namely that PistonHeads is delighted to welcome Laverstoke Park Farm, owned by F1 star Jody Scheckter, to the PistonHeads/ 1st-Tickets private campsite from Thursday to Monday. The Laverstoke team will be offering a range of cooked breakfasts and evening meals within the PistonHeads marquee throughout the weekend, using the famous Laverstoke organic produce, making the PH site the best place to be for the 24-hour.
When you wake in the morning the Laverstoke team will already be cooking bacon, sausages and black pudding, amongst other delights, to ease PH campers into the day ahead. In the evening a range of meals will be offered too if you wish to dine without the need to fire up the portable BBQ or make the trek to the supermarket.
We'll be selling food to PH campers throughout Le Mans weekend on a normal 'pay to eat' basis or, if you prefer, you can buy a meal deal which provides breakfast and dinner vouchers daily for three days. Pricing information is being finalised but value is key and it's hoped the price will be as appetising as the food itself.
In addition to full site catering we also offer the following services on the PistonHeads private campsite:
We have site-only Wi-Fi. While relaxing you can post on PistonHeads to your heart's content and show your Facebook friends what they are missing. Internet on a campsite? Who'd have thought it was even possible.
We have secure fencing around the entire camp, with 24-hour security patrols and access only granted to campers and authorised cars.
We have private toilets and showers with full-time cleaners on site too. Don't queue for a dirty shower ever again.
We have a private marquee with a bar, live coverage of the race, phone charging points and indoor and outdoor seating areas.
We have team talks where race teams come over and tell us about their set up and host question-and-answer sessions.
We have fresh daily bread orders with deliveries early every morning (tell us what you want and we'll get it) and fresh coffee too.
Our pitches are marked out and reserved. No need to rush, as your pitch will be waiting whenever you arrive. Standard pitches are marked out at 3.5m x 10m and a small number of larger pitches are available at 5m x 10m.
We have our own water and waste facilities and, best of all, you know you are camping with other PHers (including the PH team). That means it's friendly, relaxed and idiot-free.  
To book one of the remaining places click here for more information or call the 1st-Tickets team on 01767 680119. If you prefer to email, click here.
PHers already booked to stay with us can expect an email from 1st-Tickets with full details of the catering packages and prices very soon.
We can't wait to see you all in Le Mans.