Tuesday 7th August 2012
Audi to return to Pikes Peak?
Audi Sport liveried RS5 teased ahead of 25th anniversary of Rohrl's Pikes Peak victory
---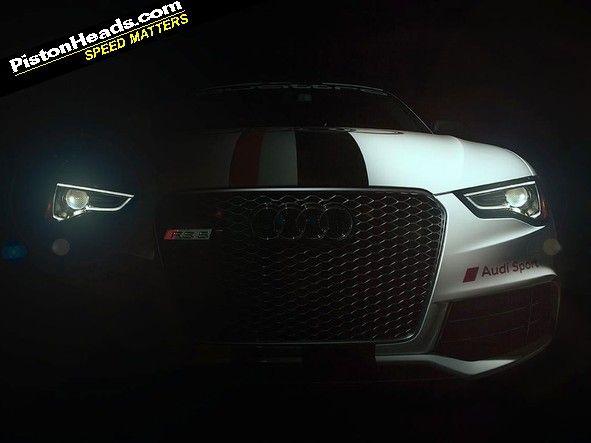 Perhaps inspired (or then again, perhaps not...) by
the A1 Competition Line pack
, Audi USA's Facebook page has run an intriguing teaser image ahead of the weekend's Pikes Peak hillclimb.
Promising "we've got a surprise for you" with the intention to "pay homage to our record-breaking past here", the only other material offered is a short history lesson (Audi's words) in video form showing the likes of Rohrl, Mouton and Unser attacking the hill in increasingly mental S1 Sport Quattros.
So, any more than a set of stickers? As we've seen, Audi isn't shy of building the odd limited-run special, with or without the involvement of Quattro GmbH. And it is 25 years since Walter Rohrl won Audi's third Pikes Peak victory on the trot, beating Ari Vatanen by seven seconds with a dominant display of Vorsprung Durch (lots of) Technik, his Quattro including then cutting-edge tech like ... a dual-clutch gearbox. Something the RS5 and plenty of Audis besides now feature as standard, of course.
Looking at the entry list it wouldn't appear Audi is planning an official assault on the now fully paved and, since last year, sub-10min course, though there are three privateers in Time Attack class Audis. So we'll have to expect some sort of road car.
Meanwhile preparations for the event, delayed from the original July date by forest fires in the region, kick off today ahead of race day on Sunday. British interest will be focused on Liam Doran, running his RS200 in the unlimited class alongside similarly equipped Mark Rennison while recent king of the hill and last year's winner 'Monster' Tajima goes electric. Meanwhile expect the locals to be cheering on the amusingly named Cody Loveland in his 850hp Honda NSX. Full live streaming (pay per view) is available on the official Pikes Peak website.
Dan Trent