Monday 30th April 2012
PH2: MotoGP round two
Arm pump? Just ride faster...
---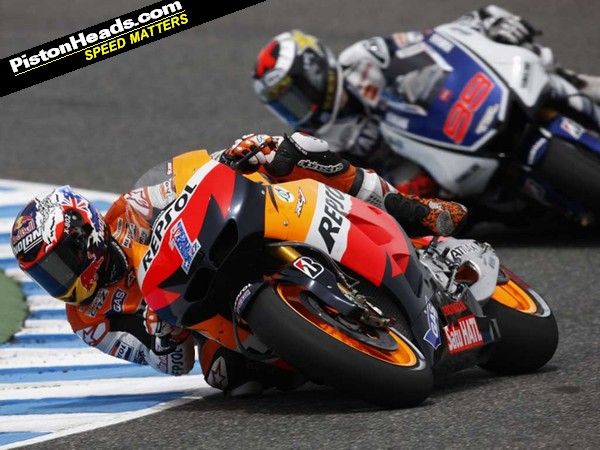 Two rounds in and it's more of the same with MotoGP - however there is one shining light. Cal Crutchlow is proving the MotoGP sensation of 2012 and, after another strong qualifying performance, Cal secured his second fourth of the year in the race. If it wasn't for a few wild first laps, Cal might very well have overtaken Pedrosa and snapped up his first podium in the premier class. Great riding Cal, Dovizioso must be getting concerned about 2013 and Ben Spies doesn't look all that safe...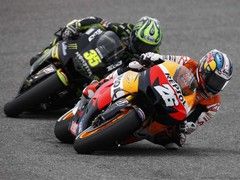 Crutchlow chased Pedrosa and got fourth
At the front it was horribly familiar - Stoner makes the break and Lorenzo tags in behind, although this time arm pump failed to rob Stoner of victory. A great ride on totally screwed tyres and digging deep for the final few laps to overcome a bit of arm pump was enough to secure the Aussie a win at one of his least favorite tracks. Describing it as "his best race ever", Stoner was unusually elated to take the win.
Rossi's dismal season continued, with Haydon showing good in the first few laps (sticky tyres helped) the finger of suspicion is starting to point at the Italian rider rather than the Ducati...
Moto2 qualifying was a disaster for the Brits with Scott Redding 12th, Bradley Smith 19th and Gino Rea 23rd on the grid - luckily Brits have sharp elbows and great starts saw all three running in the top 16 with Scott in the top five! Great riding (mainly sideways!) saw Scott make it up to second and then first with 19 laps to go. Only one issue - Marc Marquez and Thomas Luthi. Four laps later the Spaniard slipped past only to be seriously duffed up by Redding a lap later before Luthi hit the lead. Then, just as it was looking exciting, the rain started to fall. Pol Espargaro and Marquez battled for the lead but Scott dropped back to fourth before the red flag came out, giving the win to Pol. Smith finished 11th and Rea 15th.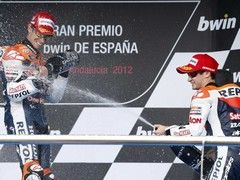 Stoner and teammate Pedrosa celebrate
After a damp and then dry qualifying, Moto3's grid was a bit topsy turvy and the race also threw up a few surprises due to the conditions. Brit Danny Kent and had a torrid time in tricky conditions, crashing out on the first lap, while Webb retired mid-race after being involved in a seven-bike battle for sixth place. Save of the weekend (almost) went to Jakub Kornfeil, who fired himself off his bike and surfed alongside only to remount and then fall off! The race was won by emerging Italian star Romano Fenati. A win and a second in your first two GPs - the kid looks class. Vinales finished sixth, not bad considering he fell off and remounted - points make prizes and the season has a long way to go...
Jon Urry