Tuesday 13th April 2010
Electric Mini Breaks 10mins at the 'Ring
Tweaked Mini E and DTM hand manage 9m 51s at a foggy Nordschleife
---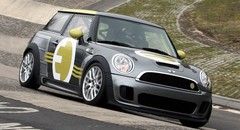 BMW's Mini E electric hatch has managed to crack the 10-minute barrier at the Nurburgring Nordschleife.
A mildly modified Mini E managed a time of 09m 51.45s, hitting a top speed of 187kph (116mph) along the way, with former DTM driver Thomas Jaeger at the wheel.
The Mini E Race (as the 'Ring car is called) has a lightweight body, a roll cage, and track-tweaked suspension, brakes and tyres. The rest of the car - including the 5088 lithium ion batteries and 201bhp electric motor is unchanged from the road-going version, aside from a longer gear ratio for the single-stage helical gearbox.
"The aim of this unique undertaking was to provide an impressive showcase of the great potential of the MINI E and its environment-friendly drive concept," says project leader Peter Krams.
It's all pretty impressive, but all the more so when you consider that Mr Jaeger posted his time on a deeply fog-bound Nürburgring, as you'll see if you click on the video below...