Monday 4th June 2012
PH2: MotoGP and TT action
Stoner has a 'mare in Spain, McGuinness rules at the Isle of Man
---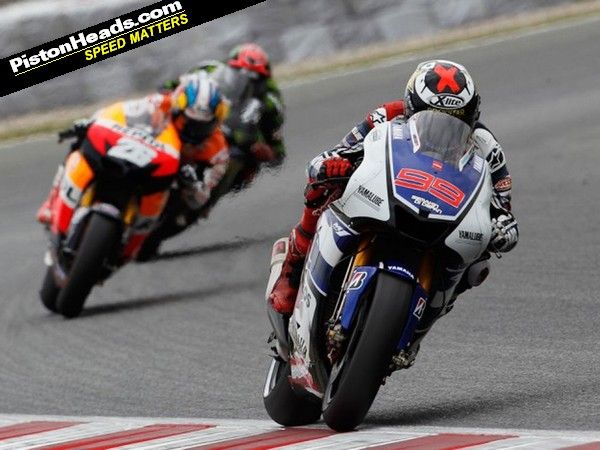 Pole position and only Catalunya's gigantic straight ahead, the Spanish MotoGP looked set to be dominated by Stoner - but things didn't go according to plan for the Aussie. A cracking start saw Pedrosa hit the front with a for once on-from Spies hot on his heels. It was great to see the likeable Yank at the front - shame it only lasted a few laps...
Spies' nightmare of season continued as he went for the lead, ran wide and dropped his M1 - with Cal and Dovi right on form, not to mention Stoner's retirement, Spies needs to start getting good results as 2013 contracts are being spoken about...
Back at the front Pedrosa took off with Lorenzo behind. Dovi slotted into third but never really looked like challenging for the lead while Stoner held up Cal. Yes, that's correct, Cal was getting baulked by Stoner who looked decidedly off-colour. Was it the choice of a hard rather than soft tyre or just the old chatter issue raising its ugly head? With 13 laps to go a uncharacteristic error from Lorenzo looked like it had let Pedrosa break clear, but the Spaniard clawed it back and instead it was a weird wheelie mistake (possible electrical error) that put Pedrosa off his stride and allowed Lorenzo past to lead with seven laps to go - a position he didn't look back from. Dovi held on for third after Stoner dug deep on the last few laps with Cal taking fifth. Good news further down the order was that in the dry Rossi's seventh place showed he is coming to terms with the Ducati and isn't that far behind the Hondas and Yamahas - a win by the end of the season? More chance than last year!
Moto2 and with Scott Redding taking 7th spot on the grid, Bradley Smith 13th and Gino Rea 23rd it was looking good. Rea's race lasted a few seconds and he was involved in a first corner crash, ruling him out of the race. Bradders seemed off the pace while Scotty was doing his best to hang with the second group after the four leaders broke clear. In the end 10th for Scott and 12th for Bradders (whose bike was one of the slowest on the start/finish straight) wasn't a bad result. The epic four-bike scrap for the lead was superb and only marred by (another) incident involving Marquez. There is no denying the Spaniard is an aggressive rider, but poor old Pol was just in the wrong place at the wrong time. The race was won by 'crazy Joe' Iannone with Luthi in second. Anyone else think that Luthi could be the dark horse for the championship this year? Afterwards Marquez was initially docked a minute for irresponsible riding then reinstated in third by race control, PH2 reckon this won't be the last time the stewards get involved in a Marquez incident this year...
Moto3 was a bit dismal for the Brits with Danny Kent finishing 20th and Danny Webb retiring with what looked suspiciously like an engine failure - however there was a shining light. Scottish wildcard rider John McPhee rode a strong race to finish 19th and was up to 9th on the first lap. Brits aside, however, and the nine-bike warfare for second spot behind runaway leader Maverick Vinales was a proper barnstormer! PH2 is starting to warm towards Moto3, especially if each race turns into a four bikes side by side each corner affair like Catalunya.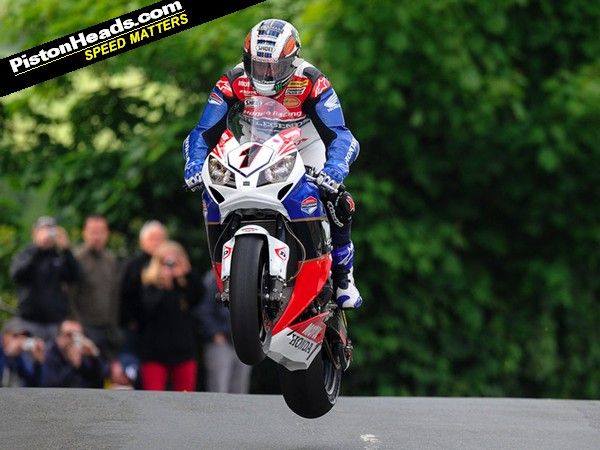 Isle of Man
TT legend John McGuinness too the honours in the first race of TT fortnight. The Morecambe missile was the first on the road for the first Superbike race and despite being pushed in the early stages by Cameron Donald, once he put the hammer down he never looked likely to lose the race. Cam took second spot while Bruce Anstey overtook Guy Martin to complete the podium. 18 wins so far for McG - how many more can he add to this in 2012... (The answer is at least another one, McGuinness taking the Superstock TT today and Bruce Anstay taking the win in the 600cc Supersports by just 0.77 seconds over Cam Donald - DT)
Jon Urry