Tuesday 15th May 2012
Chocolate tuner Aventador promises 777hp
Wispa it, but we think it's actually rather tasty...
---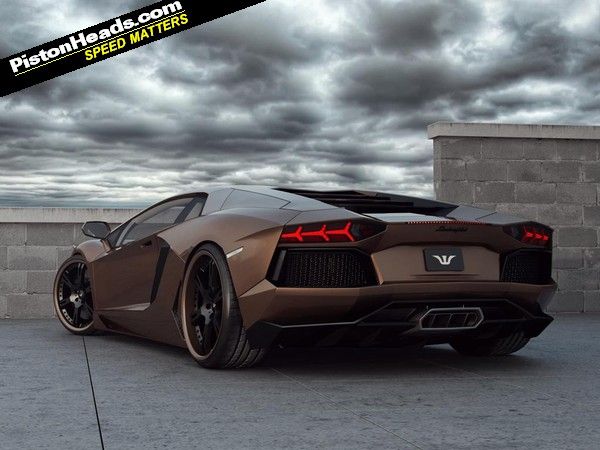 With brown apparently being the new black, which is the, er, old silver, we suppose it was only a matter of time before someone announced a mocha-coloured Lamborghini. But German tuner Wheelsandmore's chocolate "Rabbiosa" LP777-4 Aventador really takes the biscuit.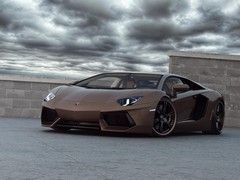 Ever dreamt of a brown Lambo? No?
As you can probably guess from the digit designation, Wheelsandmore has upped power from 700hp to 777hp, achieved by (inevitably) replacing the exhaust, tweaking the ECU and fitting a fancy new carbon airbox.
Aside from a proposed set of carbon trimmings and the new "6Sporz2" ultra light forged alloys - 10x20-inch at the front, 12.5x21-inch at the rear, exact kgs curiously missing - the visual makeover is remarkably restrained.
Given Rabbiosa appears to mean violently angry in Italian, and the standard Aventador already clocks 0-62mph in 2.9 seconds, we can only assume the LP777-4 goes like the proverbial off a shovel... Maybe that's why it's brown?
And although presumably it won't be as fast as the 805hp Prindville Aventador J, at least Wheelsandmore has provided us with an itemised pricelist. And, ah, more than just a render and a bit of speculation.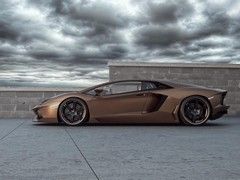 Wheels aside it's actually quite subtle
A Stage I kit - just the ECU to give 730hp with 538lb ft and 217mph - is yours for a mere €3,900; Stage II including the exhaust and airbox means 777hp with 560lb ft and 219mph, and costs €14,808. That's currently around £3,120 and £11,840, respectively.
Despite giving it a Boost to open up a whole new Galaxy of performance, Wheelsandmore promises the 6.5-litre V12 will remain as smooth as a Cadbury's Caramel. And by Lamborghini owners' standards it's not even much of a Bounty.
Careful though, as at the rate it'll surely Chomp through its tyres you could easily end up in a Twirl if you try to take it for Drifter in the Curly-Wurlys. After that it might all get a bit Crunchie. (Enough already! Ed.)