Tuesday 6th September 2011
On Video: Porsches Past, Present And (Near) Future
Pair of videos detail the 911's history, and show us how that new-fangled seven-speed manual works
---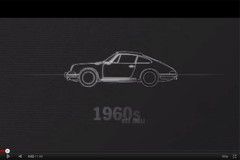 The Porsche 911 has been through a lot of changes in its time. It's been cooled by air and water, featured rear- and four-wheel-drive, has been racing car, road car, and boulevardier convertible. Porsche has also, over the years, dropped turbos into it, automatic gearboxes and even a twin-clutch transmission.
Somehow, though, the rear-engined sportster has always kept a certain distinct character - something that this first video, which charts the evolution over the 911 over almost half a century, neatly illustrates.
And as for the second video? Well it's that new seven-speed manual at work. True black magic, that...