Tuesday 17th January 2012
Junior Porsche Boxster hangs in the balance
Porsche boss says sub-Boxster model could be 'overstretching' brand's image
---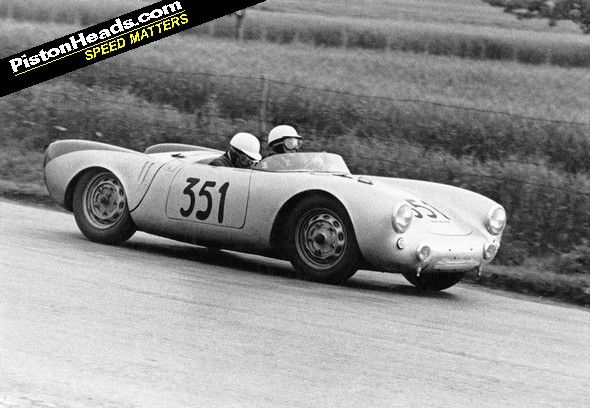 New car had been seen by some as a successor to the famous Porsche 550
The oft-mooted baby brother to the Porsche Boxster could be shelved, as Porsche shifts its focus towards the Cajun mini-SUV and a £330,000 Ferrari 599 rival to sit beneath the new £625k 918 Spyder.
Despite being full of enthusiasm for the baby Boxster at Frankfurt back in September, saying that the car could hit the road in 2012, Porsche CEO Matthias Mueller has backpedalled somewhat, telling German mag Wirtschaftswoche in November that "there is no decision to develop this car into production".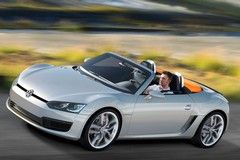 Now he's told the weekly business magazine that it might well stretch the brand's image too far and that a 'new generation of customers' would be needed before a 'People's Porsche' could succeed (odd from a company whose recent successes include the most un-Porsche Cayenne SUV and Panamera saloon, but there you go).
But perhaps the real killer for the sub-Boxster will be the fact that the VW Bluesport roadster, upon whose existence the baby Boxster relies (as it would share a platform), might never see the light of day.
As our news-nosed colleagues over on Autocar revealed last week, the Bluesport is not key to VW's plans to shift 800,000 units in the US by 2018. 'To get to 800k units, we don't need to keep adding to our portfolio of models. We're concentrating on our core models,' VW of America boss Jonathan Browning told Autocar.
If the world's largest roadster market doesn't get the Bluesport, then it's much harder to make a case for it. And if VW can't make a case for the Bluesport (which as a concept is already three years old) then the future is not bright for and Audi or Porsche sister car.