Monday 11th January 2010
E-Class Cabriolet Unveiled
The boss is bullish as Merc presents its latest rag-top
---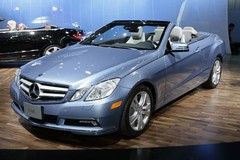 There's snow on the ground here in Detroit, but it's not as chilly as Heathrow was when we left Blighty on Sunday morning. So perhaps it's not such a silly place to launch a new convertible.
The brand new Mercedes E-class cabriolet seems even less out of place in wintry Detroit when you consider the lengths M-B engineers have gone to in order to make sure all four occupants can 'take the air' in comfort.
The key new technology employed is called AIRCAP, a system that - at the press of a button - raises a wind deflector above the windscreen and creates an island of tranquillity beneath the turbulence rushing over the occupants' heads.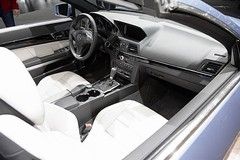 With the latest AIRSCARF neck level heating and what's claimed to be the most refined soft-top in the business when the roof is raised, Mercedes reckons the new E-class cabriolet has a lot more to offer than the CLK cabrio it replaces.
With the AIRCAP system retracted, the Cabriolet's attractive lines are unimpaired by wind-deflectors behind the seats, but the deflector does look a little odd when raised.
Still, with seven airbags and the most safety equipment in its class, the new four-seat Cabrio could bring a new meaning to fun motoring for families.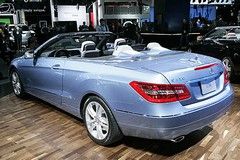 The new E-class Cabrio will go on sale in the UK in March at around £32k, a little less than the CLK.
With the SLS AMG gullwing, and a pair of hybrids in the ML450 and S400 to display alongside the new 'E' Cabrio, Mercedes clearly feels it is on a bit of a roll.
"We enter this new decade like one of my favourite comic book characters - the Hulk," said M-B chief exec Dieter Zetsche at the Detroit press conference.
"We're strong, we're green, and we're ready to roll!"
Chris-R