Friday 15th January 2010
Pic Of The Week: New Porsche 911 GT3 R
It's a little bit racy...
---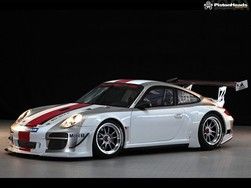 Click here to preview
Yes, it costs a steep 279,000 euros (before taxes) and no, you can't drive it on the road. But the
Porsche 911 GT3 R
is, we reckon, 100 per cent gorgeous.
We all feasted our eyes on the new racer at the Autosport/PistonHeads show yesterday, so we thought that today we would spread the joy via POTW.
So here it is in all its moody studio-shoot glory. Enjoy...
Click below to download this week's wallpaper:
Normal (1280x1024)
WideScreen (1440x900)
SuperSize (2048x1536)