Friday 19th February 2010
Mansell's Le Mans Challenge Gets Off The Ground
Red Five Ginetta Zytek shakes down in Portugal test
---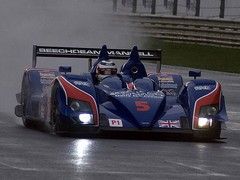 Our Nige, back behind the wheel of Red Five
The Mansell dynasty's Le Mans challenge has taken to the track for the first time after a two-day test at the Autodromo do Algarve in Portugal. Now, we know it's probably a little early to be getting excited about Le Mans, but Nigel Mansell's plan to campaign a Ginetta-Zytek is simply too exciting to ignore.
Despite torrential rain, the Beechdean Mansell Motorsport team managed to get plenty of miles beneath the wheels of their Ginetta Zytek GZ09S LMP1 car. Nigel Mansell spent most of the first day finding a set-up for the car, before sons Leo and Greg hopped in for a spell behind the famous red five. Leo and Greg spent more time in the car on day two.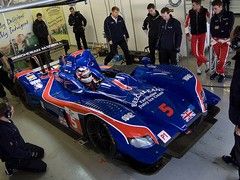 The Beechdean garage - ice cream not included
Mansell was clearly pretty pleased with the test, and to be so close to Olivier Panis and Nicolas Lapierre's Oreca - a very competitive team and car. "It's truly brilliant when you can draw breath and say that the test has surpassed every expectation," said Mansell.
"The Zytek engine powered car worked pretty flawlessly; I'm so proud of Leo and Greg, the times they got down to in a very short window were very competitive with the Oreca car, which was obviously the main test car, being supported so well by Dunlop. To gel a team in just three and a half months is fantastic and,while we know we have a huge challenge ahead, we are so pleased with what has been accomplished here."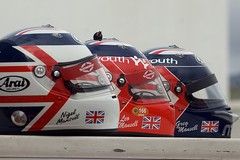 The Mansell helmets
As well as being the base for a national motorsport hero, our Nige's pit garage is going to prove a popular place for another reason. Beechdean is a maker and purveyor of farmhouse dairy ice cream and, as the Algarve test proved, is apparently more than willing to hand out more than the odd freebie. Which is far from a bad thing - as long as they don't fit a PA system to the racer that plays a jangly version of Greensleeves...