Tuesday 6th April 2010
Video: Bentley Mulsanne V8 Exposed
Bentley's revised V8 is even more torque-mongous - official!
---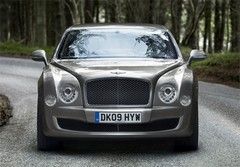 New Mulsanne gets 752lb ft of torque
Bentley's new Mulsanne will feature a completely re-engineered version of its 'classic' six-and-three-quarter litre V8, and this new video gives a taste of what's involved.
A similarly-sized V8 has lurked under the bonnet of many Bentleys built in the last half century, but in this latest twin-turbocharged guise it knocks out 505bhp with typically trouser-trembling torque.
"In total over 300 new or significantly re-engineered components have been created for the Mulsanne engine and the famed Bentley 'wave of torque' (1020Nm/752lb ft) is now delivered in full even earlier, at 1750rpm," the company says.
"This improvement in torque delivery from just above idle - as well as across the rev range - ensures that a mere tap of the throttle pedal will deliver phenomenal acceleration with 0-60mph achievable in just 5.1 seconds."
As the video reveals, latest technologies have been employed in the new V8 including two new control systems - cam phasing and variable displacement which together conspire to deliver greater refinement as well as a 15 per cent improvement in emissions and fuel consumption.
Watch the official video below to find out more...
PistonHeadsTV