Tuesday 13th July 2010
Porsche 918 Price Leaked
New hybrid supercar will cost 500k euros if it gets the go-ahead
---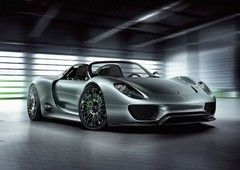 The new
Porsche 918 hybrid supercar
could cost a cool 500,000 euros (£416k) if it reaches production.
The super-green supercar, which can hit 62mph in 3.2secs and 198mph flat out, has not been officially confirmed for production, but US business website Bloomberg Business Week has claimed that the revelation of the price comes from sources close to the project.
Porsche says the 918 Spyder - whose 500bhp V8 and 218bhp twin electric motors also help it deliver a thoroughly green figure of just 70g/km CO2 - must have more than 1000 firm deposits before it will commit to the car.
The company has so far received '2000 non-binding expressions of interest', however, so things are looking good for the Porsche flagship-in-embryo.
Meanwhile, in case you haven't got half a million to splash on your next Porsche, why not take a look at these?