Wednesday 25th August 2010
First Pics: Updates For Nissan GT-R
Another nip/tuck for Godzilla leaks out
---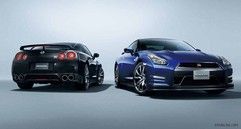 Another year, another round of minor tweaks for the Nissan GT-R - and these are the first leaked pics of the update. This time it's the 2012 model year (which we're pretty certain is Yank-speak for something that goes on sale in 2011) upgrade.
According to the folks at GTRblog.com, design tweaks to the front bumper drop drag down to Cd 0.268 from 0.272, while a new rear diffuser increases downforce by 10 per cent, and there is (unconfirmed) talk of more horses beneath the bonnet.
A new set of forged alloys from Rays also cuts 3kg of unsprung mass from each corner of the car, chopping overall unsprung weight by an impressive 12kg.
New colours for the wheels include the bruised-sounding Hyper Blue Black and Hyper Titanium, while the bodywork itself can now be treated to Aurora Flare Blue Pearl and Nebula Opal Black.
The only bad thing, as far as we're concerned, is that the GT-R has caught daytime running light disease. For shame.