Thursday 30th September 2010
Paris: Mercedes CLS
Out with the old, and in with the new version of Merc's four-door coupe
---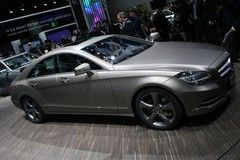 Mercedes' current, six-year-old CLS has been retired and the all new model is here at Paris.
The completely redesigned car sits on a modified version of the current E-Class's floorpan, albeit with a lower and wider track.
Design wise it retains the E-Class's rear wheelarch bulges, but loses the car-length crease of the original.
The CLS' extra length is said to have been used to make the rear more accessible, though only four seats will be offered.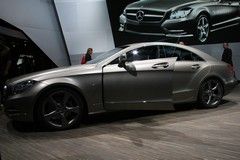 Optional all-LED headlights will be available, each made up of 71 LEDs which will probably cost a fortune.
The new car will be powered by the usual range of petrol and diesels - albeit with some eco tweaks. Like just about every other manufacturer, Mercedes has found a way to extract more power and increased efficiency from smaller engines.
Prices will follow shortly, probably with a bit of wincing all around.