Tuesday 22nd February 2011
Bahrain GP Canned
Civil unrest causes first F1 race of 2011 to be postponed
---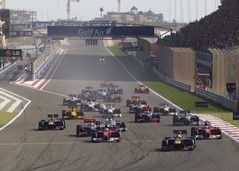 The Bahrain GP has been called off due to the continued civil unrest in the Gulf state.
Anti-government protests have caused the organisers to postpone what was to be the first race of the 2011 F1 season, originally due to be held on Sunday 13th March.
Bahrain's Crown Prince Salman bin Hamad Al Khalifa told Associated Press that the country must "focus on immediate issues of national interest and leave the hosting of Bahrain's Formula One race to a later date."