Wednesday 2nd March 2011
Brabus 700 Biturbo: The 213mph Mercedes SLS
Nutty German tuner works its magic on the already rapid SLS AMG
---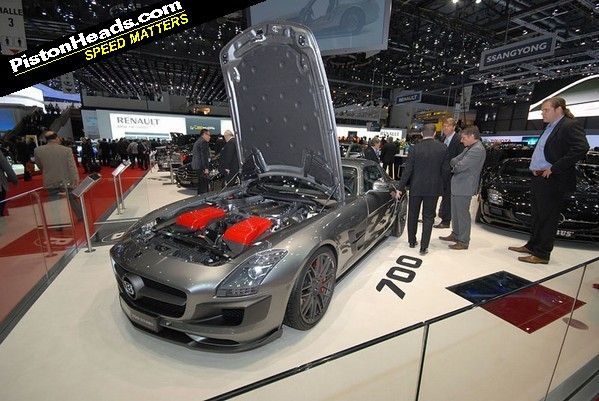 For those who feel that the Mercedes SLS AMG is a bit wet, Brabus has come up with the answer at the Geneva motor show: the SLS-based Brabus 700 Biturbo.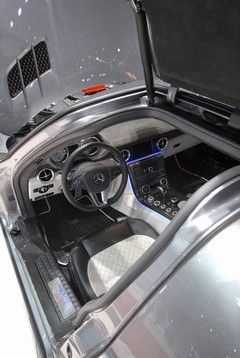 As with all the most exciting products that emanate from the Bottrop-based firm, the 700 Biturbo is basically a Mercedes with the volume turned up to 110 per cent. The car's performance figures are therefore pretty epic: a 213mph top speed (up 16mph on the 'regular' SLS), 0-62mph in 3.7secs (an improvement of a traction-limited 0.1secs) and 0-124mph in 10.2secs.
This is done essentially by bolting a pair of turbochargers to the 6208cc AMG V8 to create 690bhp and 626lb ft of torque at 4300rpm.
The 'B63' conversion isn't as simple as that, though: Brabus also chucks in a chunky intercooling system, new air filters, a bespoke exhaust that includes high-performance catalytic converters, and a reprogrammed engine management system.
Perhaps the most innovative tweak, however, is that Brabus's engineers have fitted a left-turning turbo for the left bank of cylinders. This, Brabus informs us (for our engineering bent is not enough to allow us to understand such things properly), "allows the turbine and its inlet to be designed for perfect gas flow and gas dynamics", which basically means the engine is more responsive than would otherwise be the case. We think.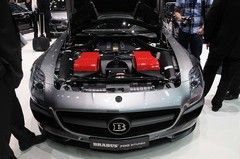 Of course, a Brabus would not be a Brabus without a moderately outlandish bodykit, and the 700 Biturbo duly delivers, with various carbon fibre oddments, 'Widestar' flared rear arches that add 20mm to the car's width, and 20-inch wheels at the front and 21s at the rear.