Tuesday 22nd March 2011
Video: Aston Martin Virage
Aston's latest V12 coupe on the move in promo video
---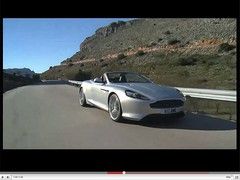 Aston Martin has released this promo video of its new DB9 - sorry -
Virage
convertible doing its thing on some mountain roads.
Which is all very nice - it's always good to see a nice video of a good car bowling along (and Sutcliffe reckons the Aston Martin Virage is a very good car indeed), but why do Aston's video people insist on slathering their promotional videos with heaps of muzak. That V12 is more than good enough.
Mind you, at least the dramatic strings are better than the vaguely drum and bass loop on that V8 Vantage S video we showed you a little while back.
Even so, Sir Peter Maxwell Davies would still be unimpressed...