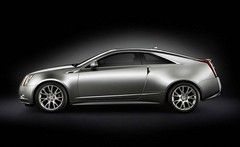 The long-mooted Cadillac CTS Coupe has finally been revealed, ahead of its December launch at the 2009 Los Angeles Auto Show.
The coupe was originally set for release back in May of this year, but turmoil at GM has delayed the car's launch until now. These pictures show a clear family resemblance to the CTS saloon, but the angular barge has been rather elegantly transformed into a sleeker (but no-less angular) coupé shape.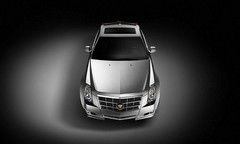 A slightly tweaked front end helps mark out the coupé and allows more space for enlarged vents for the front brakes. The high-waisted doors have abandoned conventional handles in favour of push-button jobbies, and round the back a neat twin-exit exhaust rounds off a re-styled rear bumper. The coupe is 2 inches shorter than the saloon in both height and length despite retaining the same wheelbase, probably losing the length with that truncated rump.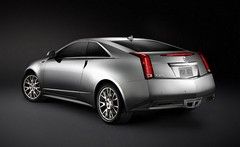 As standard the coupe will have the same 304bhp 3.4-litre V6 available with the CTS saloon. This isn't a bad prospect in itself, but nicer still would be the previously-rumoured 'CTS-V coupe' utilising the mega saloon's 6.2-litre LSA V8.