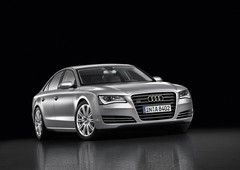 Audi unveiled the latest version of its flagship saloon in Miami yesterday, claiming the new model is 'the sportiest sedan in its segment'.
Still built around an aluminium spaceframe, the new Audi is longer, wider and lower than the model it replaces, yet it weighs 110kgs less. It is now the biggest car in its sector, and also seems certain to have a greater visual impact on the road with an all-new design that picks up most of its cues from the latest A4.
There'll be two engines available when the car is launched next spring - a 372hp 4.2-litre petrol V8 and a 350hp 4.2-litre TDi. A 250hp 3-litre diesel will follow later next year, and according to various reports a turbocharged V8 powered S8 will follow. (The current S8 has Lamborghini V10 power.)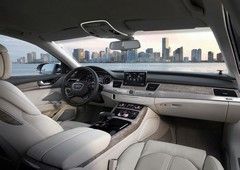 All A8s will get an 8-speed automatic gearbox with Quattro four wheel drive.
Other technical features include LED lamps front and rear, and a new safety system that closes windows and the sunroof when you hit the brakes hard.
As the pictures show, there's an all new interior treatment, and again the focus is on giving the A8 a more premium feel.
Prices here will range from £54,760 to £66,240 for the launch models, says Audi UK, which has opened the order books today.
You can read Audi's official press release about the new A8 here.