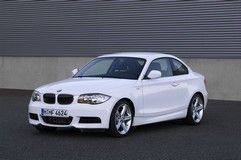 BMW's new TwinPower twin-scroll turbo engine will find its way into the 1-series range-topper this year, BMW announced at the Detroit motor show this week.
The new single-turbo straight-six replaces the current twin-turbo unit (N55 replaces N54 for engine geeks) in the 1-series, following on from the N55's debut in the 5-series GT last year.
There won't be any more power for the 135i Coupe, however - like the old engine, the new one produces 302bhp and 295lb ft.
But this could be good news because, as we revealed late last year, BMW's M division boss, Kay Segler, wants to make an M version of the 1-series, possibly as early as 2011. Keeping the 135i around the 300bhp mark gives a potential M version more room for manoeuvre.
The N55-powered 135i models will also be offered with BMW's 7-speed DCT twin-clutch gearbox as an option.